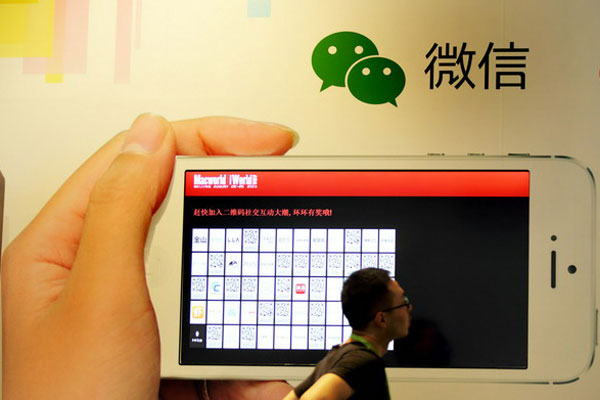 WeChat, now China's biggest instant messaging platform, is expanding its horizons and has become a primary e-commerce platform in its own right. [Provided to China Daily]
Giving hongbao, or red packets, during the Spring Festival or other important occasions is a long Chinese tradition.
A red packet, usually a red envelope with money in it, is traditionally handed out to children by parents, grandparents, or relatives and friends as a way of wishing them good luck or good fortune.
However, many people have said on the Internet that their children received fewer or thinner red envelopes during this year's Lunar New Year. Compared with the fat hongbao children received in previous years, this year's hongbao have been more symbolic rather than materialistic. For those children who reaped a lot of money from their red envelopes in the past, the slim red packets they received during this year's Spring Festival may invite their complaints or cause them less happy for a time. However, fewer or thinner red packets herald a positive social trend and should be encouraged.
To hand out hongbao is a kind of expression of love to minors, regardless of how much money they contain. However, it had become a measurement or competition of economic strength. A red packet with less than the expected sum of money was derided as "poverty" or "stinginess" on the part of the giver. And out of fear of having to give out bumper red packets to the children of relatives and friends, some people choose not to go home during the Spring Festival.
Giving out bigger and bigger hongbao has not only put huge economic pressure on some people, it is also a serious deviation from the original nature. Such an unhealthy practice has even been used as a clandestine means for bribery, as revealed by numerous cases of corruptions in the past years. In fact, the sweeping anti-corruption campaign the Chinese leadership has launched over the past two years may have contributed to the slimmer red packets, as they are hardly used as a means for ulterior purposes.