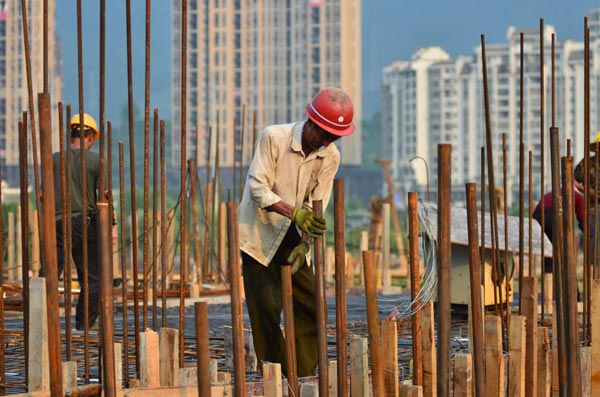 Workers at a property project in Chenzhou, Hunan province. Property developers are facing the pressure of a decline in net profits in the first half of 2014. [Photo/China Daily]
The rate of migration to cities in East Asia is very high. People move to urban areas in search of more jobs and a better life. But urbanization comes with risks that can prolong impoverishment and lack of opportunity instead of improving prospects. Once cities are built, their urban form and land-use patterns are locked in for generations. Getting it right prevents spending decades and large sums of money trying to undo mistakes.
Therefore, it is important to understand the inter-related mega-trends that accompany urban growth. To do so requires monitoring and tracking the complex issues involved, including migration, labor, employment, income, transport, health, education and public infrastructure.
Big data can be a very useful tool in this exercise, which is the focus of our (World Bank's) new report, "East Asia's Changing Urban Landscape: Measuring a Decade of Spatial Growth". It uses satellite imagery and geo-spatial mapping of the region's urbanization in the first decade of the 21st century.
Defining urban areas as those with a population of at least 100,000 people, the report uses comparable data - on an international scale - to track the expansion of 869 cities and its links with key socio-economic trends. The report's findings give a new perspective on what is happening:
Almost 200 million people moved to urban areas in East Asia from 2000 to 2010 - a population equal to that of the world's sixth-largest country. It took more than 50 years for the same number to become urbanized in Europe.
China's Pearl River Delta region has overtaken Tokyo to become the largest urban area in the world in terms of both land area and population. It is now more than twice as large as the Shanghai urban area, four times the size of greater Jakarta and five times the size of metropolitan Manila. And the increase in per capita economic output across the region with the rise in the number of people living in urban areas shows a direct link between urbanization and income growth.