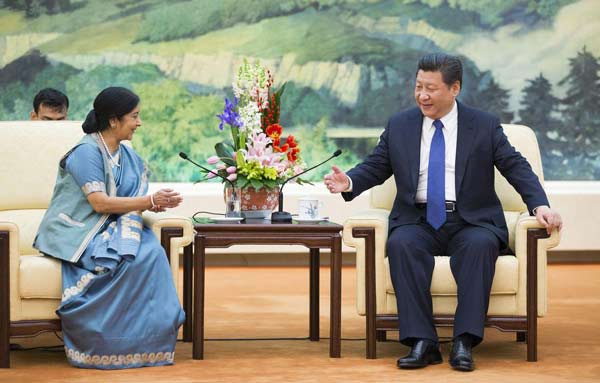 President Xi Jinping meets India's External Affairs Minister Sushma Swaraj at the Great Hall of the People in Beijing, February 2, 2015. [Photo/Xinhua]
The specific reference to the South China Sea disputes, along with the forward movement on the US-India nuclear deal, in the joint statement issued by US President Barack Obama and Indian Prime Minister Narendra Modi on Jan 25, is seen by analysts and some Indian media outlets as a significant outcome of Obama's recent visit to India. The US-India joint statement issued in September 2014 during Modi's visit to the US too had mentioned the maritime disputes in the South China Sea.
While Washington and New Delhi have seen a significant improvement in their relations over the past decade, the presence of Obama as the chief guest at India's Republic Day celebrations on Jan 26 was a symbolic move signifying that India would not let the baggage of the past influence its ties with the US.
But despite the progress in Indo-US ties, Indian prime ministers over the past two decades have sought to build a strong relationship with China.
The current geopolitical situation is in stark contrast to the 1970s when India's relations with the US and China both were strained. While a "non-aligned" India's close ties with the Soviet Union during the Cold War prevented it from having the best of relations with the US, and the 1962 border war strained its ties with China.
In the intervening years, however, Indian and Chinese leaderships' efforts to improve ties have yielded dividends: the two countries have been working closely in the BRICS bloc and making efforts to make the Bangladesh-China-India-Myanmar Economic Corridor a reality. The two countries have also found common ground on climate change at global forums.
The links between the two countries today go deeper than economics and trade. During Chinese President Xi Jinping's visit to India an agreement was signed to establish sisterly relations between Guangzhou province and India's Gujarat state. New Delhi and Beijing, Kolkata and Kunming, Bengaluru and Chengdu, and Ahmedabad and Guangdong are already sister cities. Thus it would not be wrong to say that diplomacy between China and India has become multi-layered and multi-dimensional.