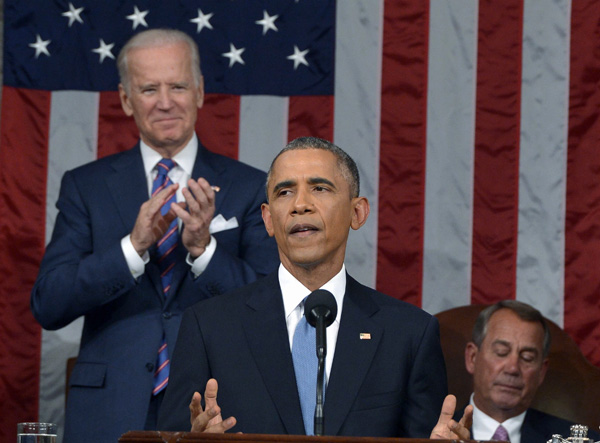 US President Barack Obama delivers his State of the Union address to a joint session of Congress on Capitol Hill in Washington, January 20, 2015. [Photo/Agencies]
Using the State of the Union address to deliver a "cheap shot" is hard to imagine, but this is what President Barack Obama did on Jan 20, when he declared "...as we speak, China wants to write the rules for the world's fastest growing region".
And what he said next was just as provocative: "That would put our workers and businesses at a disadvantage. Why should we let that happen? We should write the rules..." Obama was clearly referring here to the US-crafted Trans-Pacific Partnership, seeking a way to spur the Congress to grant him the "fast track" authority needed to bring talks to conclusion.
That he would allege a competitive threat or rivalry with China, which is not participating in the TPP talks and was never invited to do so, to trigger congressional action evidences once again how the Obama administration has cynically made the myth of a "China threat" a central feature of its "pivot to Asia" political and economic strategy.
When first introduced, this was Pentagon-driven military and security-oriented. Its goal was to maintain US military and political hegemony in the region by reorienting toward China and augmenting through new weapons, protocols, and battle plans, Cold War alliances with Japan, South Korea, the Philippines, and Australia.
Since then the "pivot" has been embellished and informed by a distinctly neoliberal "universal values" agenda that conflates US political and economic ideology with commercial interests and by preventing any substantive change to the "rules" established in the post-World War II "American century".
For Obama the only rules that can or should be followed - particularly, in Asia - are those recognized by the United States: "In the Asia-Pacific, we are modernizing alliances while making sure that other nations play by the rules - in how they trade, how they resolve maritime disputes, how they participate in meeting common international challenges...."
Many US readers will find nothing remarkable or untoward in such a statement. They fail to understand how people in Asia read and respond to the same words.