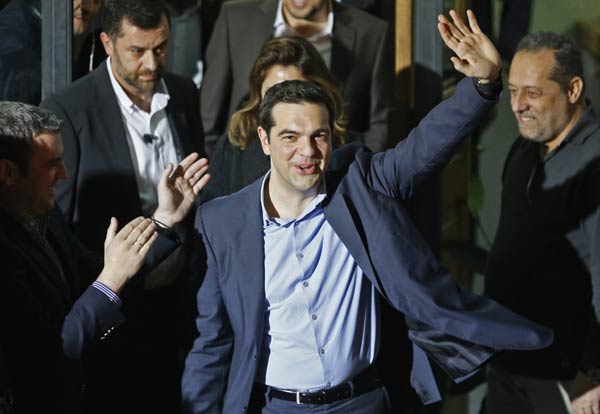 Head of radical leftist Syriza party Alexis Tsipras waves while leaving the party headquarters after winning the elections in Athens, January 25, 2015. [Photo/Agencies]
Far left and far right. Europeans have seen leaders of two extreme political leanings getting the mandate of voters within one year amid the weak economic recovery.
At the European Union level, far-right parties, which are against European integration, won more seats than expected in the European Parliament election in May. On Monday, the far-left Syriza party leader Alexis Tsipras was sworn in as the prime minister of debt-ridden Greece.
The rise of far-right parties stirred heated debates last year on how it might harm EU integration and whether it would lead to the United Kingdom exiting the EU.
Syriza is not against being part of the EU or the eurozone. But he is vehemently opposed to the EU-imposed austerity measures and seeks renegotiation with its international debtors on how to pay Greece's 240 billion debt. In fact, the 40-year-old Tsipras announced at a rally that his top priority would be to restore the dignity Greece has lost due to the pension and salary cuts, high rate of unemployment and flight of foreign capital in the past six years.
Before Tsipras assumed office, many people in Athens were skeptical about the young leader fulfilling his promises, with some even saying his election victory could cause a "political quake" and send "shock waves" through the markets. But as the election drew closer and given Tsipras's popularity, they started getting used to having a government led by a far-left party. The European Central Bank's Jan 22 decision to buy more government bonds also helped cushion the impact of the far-left party's success in the Greek election.