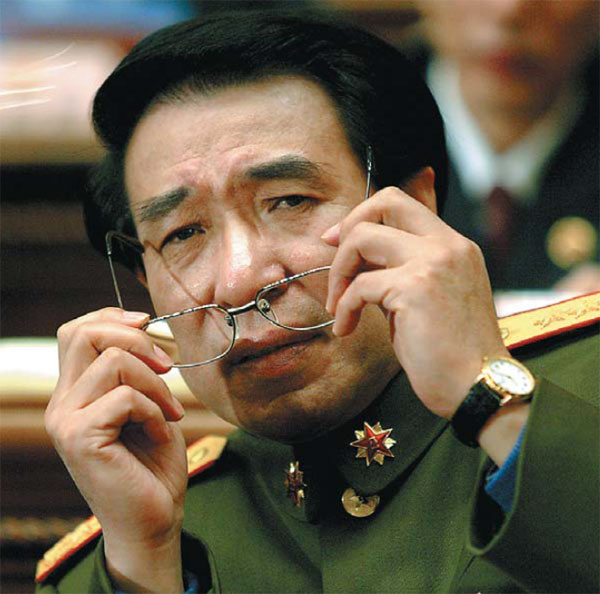 Military to step up anti-graft campaign Xu Caihou, former vice chairman of China's Central Military Commission (CMC), confessed to taking bribes. [File photo provided to chinadaily.com.cn]
China faces major as well as potentially minor security threats, and given the complicated international situation, the security environment in its neighborhood cannot be said to be satisfactory. This calls for further reform of the military, without which China cannot safeguard its national security.
The reform of China's military is also necessary to keep pace with the military buildup across the world and to cleanse the force of bad elements, especially senior officers, that have indulged in corruption and pomposity and thus lowered the morale of patriots.
An armed force's main responsibility is to safeguard a country's national security and defend its territorial integrity against attacks. With such a perception in mind, China's leadership under President Xi Jinping has accorded the highest priority to military reforms. The reforms are also expected to improve national governance.
The severe crackdown on corrupt military officers, including Xu Caihou, former vice-chairman of the Central Military Commission, and Gu Junshan, former deputy head of the People's Liberation Army General Logistics Department, shows the top leadership's determination to root out corruption from the military.
But the ever-intensifying anti-corruption campaign, which has netted "tigers" (corrupt high-ranking officials) as well as "flies" (lower-raking officials), has prompted some people to ask whether the campaign would affect the fighting spirit of the military.
Such people should be informed that the investigations into corrupt military officers will not dent the fighting capability or spirit of the military, or soil its image. If anything, the anti-corruption drive will further strengthen the PLA.