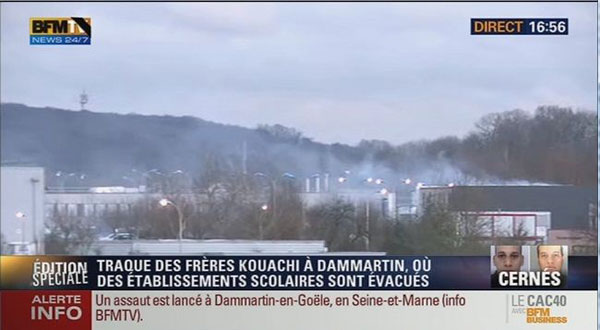 Suspects of Charlie Hebdo attacks are killed during French security force's assault on Friday evening, and the hostages are alive.
By restricting cartoonists, you may risk defeating the whole purpose of a newspaper: to fervently engage readers in the news, issues and controversies of the day, whether through the relatively civilized rationalities of expression with the relatively barbaric "emotional drone attacks" of the editorial cartoon.
A few of the esteemed cartoonists with whom I worked have won the Pulitzer Prize and many other top awards. But in recent years, in US newspapers at least, the edgiest of them have either retired or been quietly retired.
The new crop seems tamer, even worryingly polite - more like genteel illustrators than the noisy but brilliant drunk at the family dinner table. The passion somehow seems to have diminished.
But not in Paris: tame is not a word to describe the caustic cartoons of Charlie Hebdo, the French satirical magazine that was the target of an attack by armed gunmen that killed 12 people, including journalists, cartoonists, a caretaker, and two police officers. We should understand that the range of its cartoons was hardly confined to Islamic targets; skewered by the staff was just about every imaginable sacred cow under the sun. Charlie Hebdo has been, in effect, an equal-opportunity insulter.
But what is more of a sacred cow than religion of any kind? Note that in this horrific attack, the authorities have identified the assassins as French citizens of Islamic persuasion. French television footage showed armed men wearing balaclavas leaving the offices of the magazine shouting in French: "We have avenged Prophet Muhammad. We have killed Charlie Hebdo."
The problem here is that speaking the truth - or drawing attention to it, if not shouting at the top of your artistic lungs - can be a risky business. Some people just can't handle the truth.
There will be more bloodshed of this kind. This little magazine is now more famous than ever, and its slain employees have become martyrs. In fact, the grisly event is a museum-quality statue to the power of the artist.
The gunmen may have killed the magazine's staff, but they have only rekindled the spirit and reason of the satirical magazine in general.
The author is a distinguished scholar of Asian and Pacific Studies at Loyola Marymount University, Los Angeles.