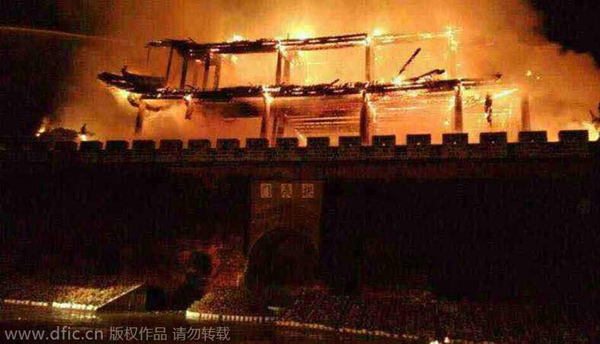 A fire engulfs the Gongchen Tower, an ancient city gate tower with a history of more than 600 years, in Southwest China's Yunnan province. [Photo/IC]
The frequent fires that have razed the country's ancient buildings, some of them well-preserved cultural relics, have highlighted the need for the authorities to put in place stricter and more effective measures for the protection of these precious cultural gems.
A fire broke out on Saturday at Gongchenlou, an ancient tower built in the Ming Dynasty (1368-1644), in Weishan county, Yunnan province. Although no casualties were reported, the conflagration destroyed most of the 600-year-old landmark that was listed as a provincial-level cultural relic.
Given the irreparable loss caused by the blaze to the nation's precious architectural heritage, a thorough investigation should be conducted into its cause, and those found responsible for the fire or failing to prevent it should be punished. And there should be profound self-reflection on why such an ancient structure, which has invaluable historical and cultural values, failed to get special protection from the local government. At the same time, an immediate safety review should be launched over any possible safety concerns and loopholes for historical architecture throughout the country.
In fact, this is not the first time that China's ancient architectural heritage has been engulfed by fire in recent years. In the past two months, at least four ancient buildings have been damaged by fires in Guizhou and Yunan provinces and the Tibet autonomous region.
Besides huge economic and human losses, these fires have also caused the disappearance of the precious traces of the country's historical and cultural activities. The frequent fires in the country's ancient towns or architectural legacy have fully revealed local governments' lack of awareness of their importance and their lax to protect these precious historical and cultural relics.