More than 40 companies signed contracts totaling 20.3 billion yuan ($3.19 billion) at the China (Karamay) International Petroleum and Petrochemical Technology and Equipment Exhibition on Aug 31, Karamay Daily reported.
 According to Zhang Hongyan, vice secretary of Karamay's Party committee, the contracts are significant for the equipment manufacturing industry in the entire autonomous region and for the social and economic development of Karamay city.
Apart from the equipment purchases contracts, tentative cooperation agreements in the petrochemical industry have also been reached.
Karamay will establish a petroleum equipment research center, a quality inspection and certificate center, and a Central Asian trading center that integrates manufacture, trade and consumption.
This exhibition is one of the highest level petroleum and petrochemical exhibitions in China. As a major city of the Silk Road Economic Belt, Karamay is an important energy base in China and an important industrialized city in Xinjiang. Its manufacturing industry has comparative advantages and good prospects.
Representatives from the Xinjiang Uygur autonomous region, national oil companies, sister cities of Karamay, and business people from home and abroad attended the signing ceremony.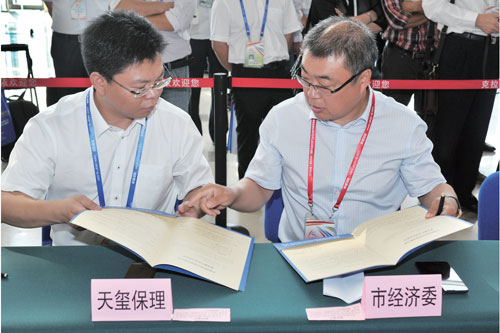 Royal Seal Factoring signed contracts worth over 100 million yuan at the international equipment exhibition in Karamay on Aug 31. [Photo/epaper.kelamayi.com.cn] ]
Edited by Andrew Ancheta