Economic revival
( China Daily )
2016-06-22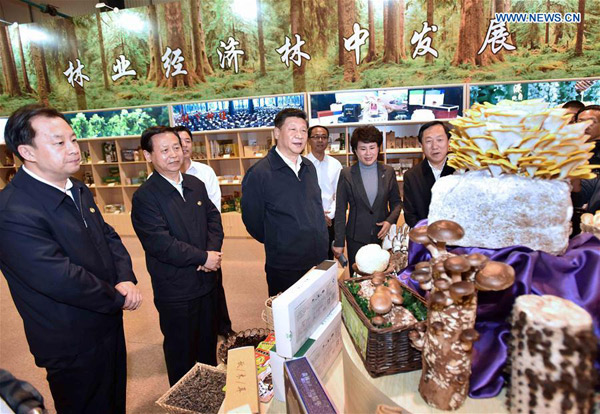 Chinese President Xi Jinping visits an Ecological Economic Development Zone in Yichun, Northeast China's Heilongjiang province, May 23, 2016. [Photo/Xinhua]
NORTHEAST CHINA, comprising Heilongjiang, Jilin and Liaoning provinces, received only four angel investments totaling 7 million yuan ($106,000) last year, according to a recent report on China's investment market. Beijing News commented on Tuesday:
That angel investors have little interest in the northeastern provinces has a lot to do with the exodus of young talents from the region, the rapidly aging population and the unfavorable atmosphere for innovation. But it would be unfair to say the region has no future, because a majority of northeast residents, be they civil servants, scholars or entrepreneurs, are neither narrow-minded nor against market-based competition.
True, the old development mode, which is highly reliant on State-owned enterprises and labor-intensive heavy industries, appears to be an anachronism in these times of intensive market-oriented reform. That explains why local talents keep leaving home in search of better careers.
Over a decade ago observers emphasized the need to revitalize Northeast China's economy, which still remains sluggish because the focus has been on making the traditional industrial bases "great again", not introducing market-oriented competition.
On the other hand, as the central government has stopped issuing stimulant economic policies, traditional industries including coal and nonferrous metals will have to endure an institutional overhaul to tide over the current crisis.
But not all employees of SOEs in Northeast China are willing to go through the pains of losing some of their "comfort". Some have decided to resign and restart their career elsewhere, while those who have chosen to stay are not happy with the ongoing reform. As a result, private fixed asset investment in the region has declined by almost 30 percent from January to May on a year-on-year basis.
The truth is, Northeast China still has the potential to relive its glorious past as the country's economic powerhouse thanks to its abundant natural and labor resources as well as pivotal location for cross-border trade. But to fulfill that potential, local governments have to grant wider access to private enterprises instead of painstakingly sustaining the region's outdated growth model.