A total of 24 roller skating teams containing 219 people gathered in Taicang, Jiangsu province for the 2015 Taicang roller skating games.
The invitational tournament was held during the weekend. It is the first professional roller skating event held in Taicang.
The event's organizers scheduled 300-meter and 1000-meter time trials, 500-meter sprint, 1000-meter relay race and fun games for participants aged between three and 50 to enjoy.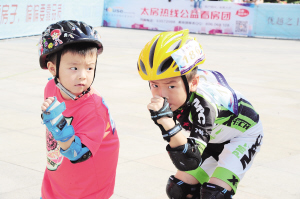 Two children take part in the 2015 Taicang roller-skating event, held on Oct 17 and 18. Courtesy of Taicang Daily.
Fourteen-year-old Fei Yufan from Taicang came first in the 1000-meter time trial for male youth. Fei recently joined the city's roller skating team. He said that he learns skills and gains valuable experience from other players while competing in events such as the Taicang roller skating games.
Seven-year old Zhang Yuqing from Nanjing, the capital city of Jiangsu, secured second place at the 300-meter time trial for female children. Zhang said that she started learning roller skating skills when she was 3 years old.
In total, four gold medals, 13 silver medals and seven bronze medals went to players and teams from Taicang.
The first six places of the team competition were taken by teams from Nanjing, Kunshan, Taizhou and Taicang in Jiangsu province and Shanghai municipality.
Speed roller skating has been growing in popularity in Taicang. A roller skating association was founded in the city in February.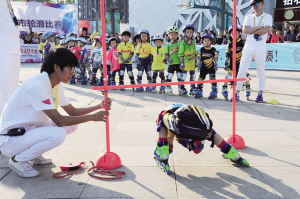 A child practices skills techniques during an entertainment program at the 2015 Taicang roller-skating event. Courtesy of Taicang Daily.