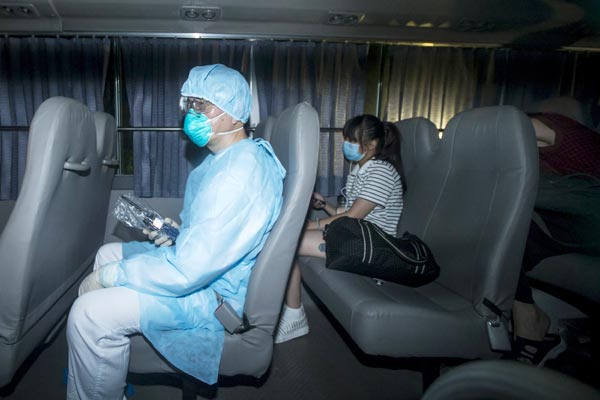 A health worker with protective suits sitting with people (R) who came into close contact with the Korean Mers patient arrive at Lady MacLehose Holiday Village in Sai Kung, where they will spend two weeks in quarantine, in Hong Kong, May 30, 2015. [Photo/Agencies]
The 44-year-old left on a business trip on Tuesday, a day after his father was diagnosed with the virus, and he was confirmed Friday to have been infected himself.
The man flew to Hong Kong and traveled by bus to Huizhou, Guangdong province, where he is being treated under quarantine.
Dozens of people - including his colleagues and passengers who sat near him on the same flight - have been or are expected to be examined or quarantined.
The outbreak has been traced to a 68-year-old man diagnosed on May 20 after returning from a trip to Saudi Arabia.
The 14 others who caught the virus were patients in the same hospital as the man, their relatives or hospital workers he came into contact with.
Moon said the hospital where the outbreak was reported has been closed and all patients were being treated in quarantine - he would not disclose its name or location for fear of spreading panic.
MERS is considered deadlier but less infectious than the related severe acute respiratory syndrome, which killed hundreds of people when it appeared in Asia in 2003.
A total of 129 people who were exposed directly or indirectly to the patients have been quarantined or put under special observation so far.
But "a far greater number" will be quarantined or put under observation this week as more people were diagnosed with the disease over the weekend, health officials said.
More than 20 countries have been affected by the virus with no known cure or vaccine, with most cases were in Saudi Arabia, where more than 400 have died since 2012.