China's first lady Peng Liyuan has pledged to support Africa's medical and health programs.
President Xi Jinping's wife delivered the promise on Saturday while attending an anti-AIDS advocacy event in Johannesburg, where she accompanied the president at the Johannesburg Summit of the Forum on China-Africa Cooperation.
Peng said China will consistently support African countries in fighting AIDS and support the World Health Organization and the UN Program on HIV and AIDS prevention and control in Africa.
It will also support Africa's programs on medical infrastructure as well as women's and children's healthcare, said Peng, who is a WHO goodwill ambassador for tuberculosis and HIV/AIDS.
She made the remarks while addressing the event titled "Caring for an HIV-free Generation".
It was attended by first ladies from 10 African countries, the executive director of UNAIDS Michel Sidibe and director-general of the WHO Margaret Chan.
Peng proposed that work should be done to provide care for AIDS patients and for more patients to be treated.
Children's awareness of AIDS prevention should be enhanced through education, she said.
The event was hosted by China's National Health and Family Planning Commission and the Organization of African First Ladies against HIV/AIDS.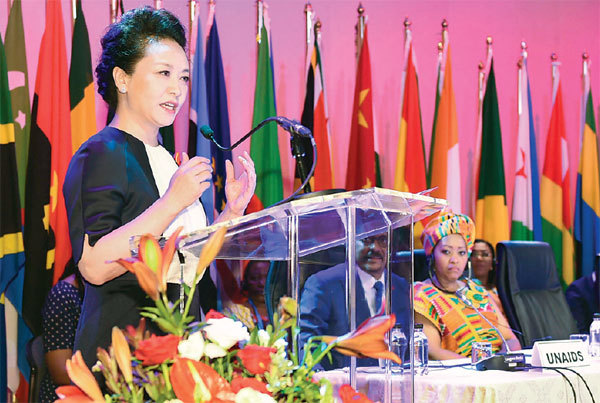 First lady Peng Liyuan speaks during an anti-AIDS event on Saturday in Johannesburg, South Africa. She said China will consistently support African countries in fighting AIDS. Xie Huanchi / Xinhua