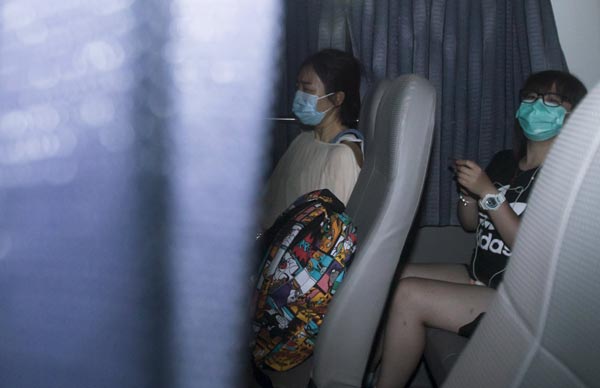 People who came into close contact with the South Korean MERS patient arrive at Lady MacLehose Holiday Village in Sai Kung, where they will spend two weeks in quarantine, in Hong Kong, May 30, 2015. [Photo/Agencies]
The number of people who had been in close contact with the first patient in China with Middle East respiratory syndrome rose to 77 in Guangdong, the provincial Health and Family Planning Commission said on Sunday.
Among them, 64 have been quarantined while 13 others, including 11 passengers on a bus to Huizhou boarded by the man, have remained out of contact.
None of the quarantined has showed any abnormality.
The condition of the first patient, a 44-year-old South Korean man, aggravates, but he is conscious, his vital signs are stable, and his heart rate and blood pressure normal.
He flew from Seoul to Hong Kong on Tuesday, a day after his father was diagnosed with MERS, and traveled to Huizhou by bus on the same day, ignoring instructions from doctors to stay home.
MERS is a respiratory tract illness caused by the MERS coronavirus.
The first known human case was confirmed in Saudi Arabia in 2012, and since then 1,142 cases in 23 countries had been reported up until May 16. There is no vaccine or treatment for the illness.
The current outbreak has been traced to a 68-year-old man diagnosed on May 20 after returning from a trip to Saudi Arabia.
Eighteen people in the Hong Kong Special Administrative Region who had close contact with the patient in Huizhou have been sent to a quarantine camp-including two South Korean women who had earlier been reported to have refused to be quarantined-the Hong Kong Department of Health's Center for Health Protection said on Sunday.