Brands prepare to woo Chinese sports-loving consumers
With big-ticket events on the horizon, advertisers eye online, offline channels
Companies operating in China, where hundreds of millions of consumers are internet-savvy sports-lovers, are gearing up to promote their brands in the busy sports season ahead.
Multiple big-ticket sports events are scheduled for the near future: the 2020 Tokyo Olympic Games, the UEFA Euro 2020 football bonanza, the 2022 Winter Olympics and more.
Since 2014, awareness of, and interest in, sports have risen sharply in China, according to a joint report from the China Advertising Association, marketing data technology company AdMaster and the Miaozhen Academy of Marketing Science.
The report analyzed related online data such as search frequency and discussions. Opinions expressed in the public domain about sports in 2019 more than doubled that in 2014. The peak was in 2018 when Russia hosted the 2018 soccer World Cup, the report said.
"By having their brands exposed during hot sports events, companies can reach their potential consumers in a more efficient way, so as to help increase sales and expand brand influence," said Leon Zhang, partner of global consultancy Prophet.
Charles Chen, associate account director of consultancy Kantar Worldpanel China, said besides brand reputation, companies also expect to build a healthy and dynamic brand image, in line with people's increasing preference for a healthier lifestyle in China.
Traditional sports marketing includes sponsorships of sports teams and events, enrolling star sportspersons as brand ambassadors, publicizing related advertisements and organizing offline and online branding activities, experts said.
Sports marketing has also expanded to the so-called pan-sports marketing segment, which includes marketing for esports events, sports entertainment programs, sports social platforms, e-commerce platforms and key opinion leaders in sports, according to the report.
Companies showing interest in the segment have ranged from sports and automobile brands to finance, home appliance, beverage, energy and other industry brands, it said.
Credit card brand Visa has been a sponsor for the Olympics from 1986 to 2032. Chinese property conglomerate Evergrande Group invested big time in soccer events. China Mengniu Dairy, smartphone manufacturer Vivo, home appliance giant Hisense Group and property giant Dalian Wanda were all among the various sponsors of the 2018 FIFA World Cup in Russia.
Companies also do marketing in different ways. Huawei functioned at the 2014 FIFA World Cup in Brazil as communications guarantee service provider. Japanese carmaker Toyota will provide cars for the torch relay of the 2020 Tokyo Olympics. P&G released advertising short videos entitled "Thank you, mom" during the 2014 Sochi Winter Olympics and the 2016 Rio Olympics.
Sports marketing has proved to be profitable. According to research of Kantar Worldpanel, sales of beer and carbonated beverages during the 2018 World Cup grew 43 percent and 32 percent year-on-year, respectively, thanks to massive promotions.
Its survey showed 53 percent of consumers remembered watching Mengniu's ad with star soccer player Lionel Messi, far more than other sponsors, though the growth of sales is far less than beer or beverage, due to its weaker linkage to soccer.
"Instant sales surge after a sports event may not be possible, but the company succeeded in raising awareness of its brands," Chen said.
AdMaster's report said sports enthusiasts show more interest in automobile, digital products, commodities for daily use, and mother and baby products.
Kantar Worldpanel's study showed men love watching soccer and basketball games most, while women favored diving and swimming. "Brands need to select different sports events to sponsor or do marketing after learning the preference of their consumers, to increase brand value and promote sales effectively," Chen said.
The upcoming 2022 Winter Olympics has also attracted big investment. According to a People's Daily report in October, the organizing committee has nine official partners, including Bank of China, Chinese dairy giant Yili, and State Grid. The event has signed six sponsors, including Tsingtao Beer, and two exclusive suppliers EF Education and artificial intelligence company iFlytek, it said.
Chinese Olympic skating champion Wu Dajing endorsed water brand Evergrande Spring and automobile brand Hongqi. TV and online media also broadcast programs related to winter sports.
Zhang from Prophet said since there are still more than a couple of years to 2022, more brands are preparing for related promotions.
He said it is important to select the right sports events to invest in, instead of going in for blind investments. "The sports and marketing channels should target their consumers accurately."
Chen suggested companies should insert sports events-related ads on multiple platforms, including TV broadcasts, video websites, WeChat, Sina Weibo, news apps and outdoor billboards.
He said sports marketing is all about brand-building over the long-term. It requires continuity and stability. "Coca-Cola, for example, has sponsored Olympics for about 90 years, and the soccer World Cup for over 40 years, while releasing related ads and limited-version products during the events, so that its brand image can be passed down from generation to generation."
chenmeiling@chinadaily.com.cn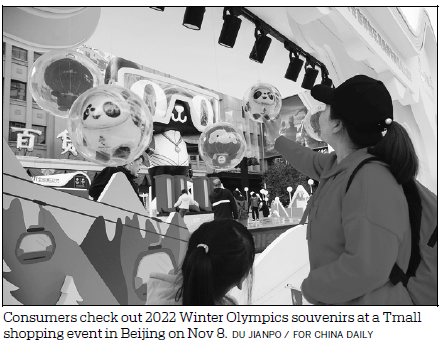 (China Daily Global 12/02/2019 page10)
Today's Top News
Editor's picks
Most Viewed