US diplomat revises testimony, now says there was Ukraine quid pro quo
A top US diplomat has revised his testimony, admitting having told a top Ukrainian official that United States security assistance withheld by President Donald Trump was unlikely to be delivered until Ukraine publicly met a demand for an "anti-corruption" statement, according to transcripts released on Tuesday.
From Monday, the US House of Representatives has started a slow dribble of transcript releases from the closed-door hearings in the past few weeks, a move that analysts said would pave the way for the second, more open, phase of the impeachment inquiry of potential abuse of power by Trump, who has denied any wrongdoing.
The congressional probe was sparked by a July 25 call between Trump and Ukrainian President Volodymyr Zelensky, in which Trump is alleged to have pressed Zelensky to investigate former vice-president Joe Biden and his son Hunter Biden.
Joe Biden is a leading contender for the Democratic Party nomination to run against Trump in the November 2020 election.
US Ambassador to the European Union Gordon Sondland revised his testimony in the House impeachment probe to acknowledge that US military aid to Ukraine was being withheld until the foreign ally promised to investigate corruption as Trump wanted.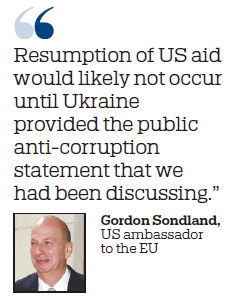 Sondland, who initially testified in October to a Democratic-led congressional impeachment inquiry of Trump, offered new details to lawmakers on Monday after his memory was "refreshed", which appear to bolster the initial whistleblower complaint that led to the investigation, Reuters reported.
In his new statement, Sondland said that by the beginning of September "in the absence of any credible explanation", he concluded that the nearly $400 million in withheld aid was linked to Trump's demand that Ukraine publicly acknowledge an investigation.
"Resumption of US aid would likely not occur until Ukraine provided the public anti-corruption statement that we had been discussing for many weeks," Sondland said he told a Ukrainian presidential adviser.
"The decision by Ambassador Sondland to amend the testimony he gave a couple of weeks ago to admit, having previously denied, that he posed the aid for investigations quid pro quo to Ukrainian officials himself is a big development," said Cal Jillson, a political scientist and historian at Southern Methodist University in Dallas, Texas. "Staring at a perjury charge will focus the mind."
House investigators also released transcripts of testimony from Kurt Volker, the former special envoy to Ukraine, on Tuesday.
On Monday, they released testimony from former US ambassador to Ukraine Marie Yovanovitch. The career diplomat, who was recalled from her job in May on Trump's orders, testified that a senior Ukrainian official told her that, "I really needed to watch my back".
"Releasing the closed-door hearing transcripts and the public hearings to follow in a couple weeks will give the American public a chance to learn the facts of the Trump administration's dealings with Ukraine and to form opinions about the extent, if any, of the wrongdoing," Jillson said.
Stanley Renshon, a political scientist at City University of New York, also said that the House's release of the depositions was "a positive development", because it provides the basis for asking fair questions about real testimony and not "self-serving leaked snippets".
"What struck me was the distorted 'hall of mirrors' aspects of the testimony as various actors recalled what they thought they understood, which is not the same as what the reality was," Renshon said.
The White House claims the release of two transcripts Tuesday shows "there is even less evidence "for impeachment than previously thought.
White House spokesperson Stephanie Grisham said the testimony of Sondland didn't "identify any solid source" for his acknowledgement that he understood by September that US aid to Ukraine was linked to a public statement promising to investigate corruption in the country.
"No amount of salacious media-biased headlines, which are clearly designed to influence the narrative, change the fact that the president has done nothing wrong," Grisham said in a statement.
On Tuesday, House investigators also asked Trump's acting chief of staff Mick Mulvaney to appear for a deposition on Nov 8, a request he intends to ignore.
"His testimony and that of other senior officials will be essential to investigators and to the completeness of the process," said William C.Banks, a Syracuse University College of Law professor.
A host of top administration officials are expected to defy congressional subpoenas and refuse to testify as part of the impeachment inquiry, thehill.com, a US political website, reported on Tuesday, saying that following the refusal by four officials to appear in the Capitol for interviews on Monday, two others were no-shows on Tuesday. Wells Griffith, a top energy expert at the National Security Council, and Michael Duffey, a senior national security aide at the White House Office of Management and Budget, Banks, who co-authored National Security Law and the Power of the Purse, a 1994 book about tensions between the executive and legislative branches over security and spending, said "stonewalling" by administration members is based on the presumption that courts will uphold White House executive privilege.
"This ploy buys time and delays the House proceedings, but also may add another charge in the impeachment - obstruction of justice.
Banks also said that transparency such as the release of transcripts and open hearings would deprive impeachment opponents of their fairness argument.
Reuters and AP contributed to this story.
huanxinzhao@chinadailyusa.com
(China Daily Global 11/07/2019 page3)
Today's Top News
Editor's picks
Most Viewed