Aspiration for Asia
China aims to establish a future-oriented open and cooperative regional mechanism
The end of the Cold War eased tension in China's neighboring environment and heralded a new era of economic openness in the Asia-Pacific region, with China and its neighbors developing strong economic and trade relations.
China has become the biggest economy in Asia but hardly the most powerful one. It has no overwhelming economic strength, nor does it have the power to provide security assurance to other Asian nations. Despite China's growing economic and military might, it is no challenge to the predominant position of the United States in the Asia-Pacific region, which is home to multiple players with different agendas.
China should seek to establish a mechanism to boost regional cooperation and a platform to transcend bilateral relations in the region. Up to date, it has established not only national-level but also sub-regional dialogue and cooperation mechanisms. The cooperative frameworks it has signed with the sub-regional bodies go beyond the bilateral relations and encourage regional stability and new order in the neighboring areas.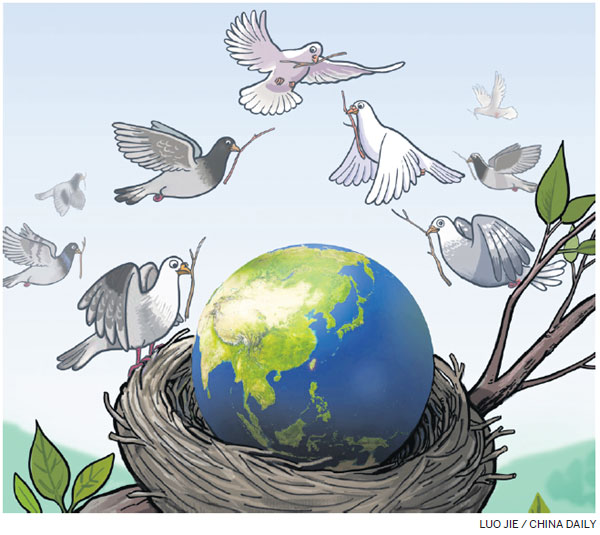 In Southeast Asia, to build friendly relations China has been working closely with the Association of Southeast Asian Nations. Even in 2013, at the height of the South China Sea crisis, China did not waiver in its commitment to building a community with a shared future with ASEAN or walk away from the negotiations on a code of conduct for the South China Sea. Instead, it proposed to upgrade the free-trade zones and signed a raft of treaties. China has a proven track record of respecting and cooperating with ASEAN, and China-ASEAN relations are a strategically crucial testing ground for building a new regional order and new neighborly relations.
Yet it is Northeast Asia that matters most geopolitically for China. The region is still divided, haunted and traumatized by history. China and Japan lack political trust, while relations between China and the Democratic People's Republic of Korea are subject to the complicated nature of the Korean Peninsula denuclearization issue.
China's plan to resolve the nuclear issue by holding Six-Party Talks frizzled out, due to the complicated relations among the six parties concerned and the daunting obstacle of the United States' hostility toward the DPRK. The failure of the talks has proved the arduousness of securing the denuclearization of the Korean Peninsula and everlasting peace in the Northeast Asia, which requires more concerted efforts, more consensus, new strategies and stronger Chinese leadership.
A China-Japan-ROK free trade agreement could be expected to make a breakthrough in the political predicaments among the three countries. Yet despite the ongoing talks it remains stranded by the chilly relations between China and Japan and between the Republic of Korea and Japan. Their economic cooperation loses momentum each time one of the pairs of relations sour.
With the US administration pursuing its "America first" policy and launching an all-out trade war against China, defending cooperation and an open market in the Asia-Pacific has become paramount. China should remain committed to reform and opening-up. Meanwhile it should champion multilateralism and openness in East Asia. For instance, it should play its part in delivering a successful Regional Comprehensive Economic Partnership before the end of 2019.
The disintegration of the Soviet Union and the end of the Cold War altered China's relations with central Asian countries. Previously, there was only its bilateral relations with the former Soviet Union. Now China has established new relations and cemented mutual trust with Russia and its central Asian neighbors through the Shanghai Cooperation Organization (SCO). This China-led organization has an increasing number of members and expanding functions, and it is expected to play a bigger role in regional security and economic cooperation.
The importance of South Asia has also come to the fore in recent years. First, China needs to build a new relationship with an emerging India, a developing nation on the rise. Second, the Indian Ocean should be a channel of openness and cooperation. A stable, open, friendly and growing South Asia is in the best interests of China. Although South Asian nations normalized relations with China many decades ago, the level of closeness toward China varies from country to country. It is important for China to open a brand new chapter in dealing with South Asia, especially by mending fences with India. In 2006, China was granted observer status in the South Asian Association for Regional Cooperation (SAARC), a regional intergovernmental organization and geopolitical union of states in South Asia. Being a SAARC observer is only the beginning; China can push for a greater role in SAARC and a"1+8" framework.
For China, the Asia-Pacific region is a geopolitical arena that has both economic and security connotations. Economically, it is the major market and source of foreign investment for China. In terms of security, a rising China is advised to exercise caution when dealing with the US, the established regional power. It is a region where China's economy and security are at stake.
The US Indo-Pacific strategy is a natural extension of its rebalancing to the Asia-Pacific. And the Indo-Pacific strategies of the US and Japan bring South Asia, especially India on board. This is widely seen as a move to undercut China. However, China shows no interest in this game of choosing side and flexing muscles.
At present, APEC is the primary platform for China to promote open market, and economic and technological cooperation in the Asia-Pacific region.
Called an economic organization it is tasked with some political agendas such as enabling regional dialogues and diplomatic exchanges. China endeavors to make full use of APEC to advance its economic and strategic ends.
The author is a member of the Chinese Academy of Social Sciences. The author contributed this article to China Watch, a think tank powered by China Daily. The views do not necessarily reflect those of China Daily.
(China Daily Global 08/14/2019 page13)
Today's Top News
Editor's picks
Most Viewed