Financing China's innovation economy
Stock market should serve the real economy and be an engine for value creation, rather than a casino for speculation and vehicle for value extraction
How to develop a financial system that effectively supports innovation and real sector economic growth is a challenge facing policymakers globally. The root of the difficulties lies in the inherent characteristics of innovation, which typically requires long-term investment in a radically uncertain environment. It's difficult for investors and policymakers to evaluate and select potential winners beforehand.
China's science and technology innovation system used to rely on direct government funding support. But driven by its market-oriented reforms, China has developed an increasingly vibrant corporate innovation economy during recent decades. Now business enterprises account for over 75 percent of China's research and development expenditures. Among them, companies listed on the domestic stock market account for around 40 percent of China's total enterprise funded R&D expenditures. China's rapidly growing innovation economy has three key pillars with different financing features.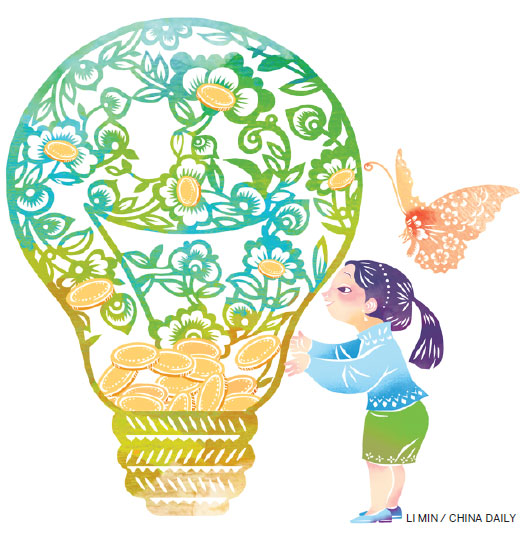 The first is China's large State corporations which occupy the commanding heights of China's industrial economy, such as aerospace, aviation, oil and gas, electricity, nuclear power, construction engineering and railways. Following the reforms of State-owned enterprises, most of these "national champions" have been commercialized and are now listed companies. Supported by easy access to the domestic financial system, they have played a critical role in China's phenomenal infrastructure and energy innovations.
The second is China's information technology enterprises led by highly innovative private companies such as Alibaba, Tencent, Baidu and Huawei. They have been at the forefront of China's internet technology revolution, with each of the leading firms creating an expansive business network connecting numerous smaller enterprises through equity investment and supply chain linkages. However, most of the leading firms in China's IT sector have not yet been listed on China's domestic stock market.
The third pillar is China's private enterprises in more traditional industries especially manufacturing. With increasing investments in automation and IT-related technology upgrading, China's manufacturing enterprises have been moving away from lower-end labor intensive operations toward higher-end capital and innovation intensive businesses. Their access to the domestic banking system and stock market has broadened over the years, but remains relatively inadequate in comparison with their contributions to China's GDP and employment growth.
The adequacy of a given financial system depends on the fitness between a country's financial sector arrangements and the development stage of its real economy. Within less than three decades, China's stock market has grown rapidly from a negligible size to become one of the world's largest markets in terms of total equity funds raised by listed companies. However, consistent with the pattern of large developing economies catching up in industrial development, China's overall financial system remains primarily bank based.
There is vast space for the stock market to grow and play a larger role in financing China's innovation and economic growth.
Nevertheless, the relations between the stock market and innovation are complex and not without controversy. On the one hand, the stock market can potentially play a crucial role in raising capital, risk diversification and price discovery. It also provides avenues for mergers and acquisitions that may serve as a disciplinary mechanism to penalize inefficient firms.
On the other hand, the stock market tends to breed short-termism, predatory corporate practices as well as financial instability characterized by speculative bubbles and crashes, which can be particularly detrimental to developing economies. It is safe to stress that in order to make the stock market an engine for innovation and value creation, rather than a casino for speculation and value extraction, it must be placed under robust regulation and oversight, and have appropriate development strategies to serve the real economy.
The recent launch of the Science and Technology Innovation Board (STAR) in Shanghai is a new milestone for China's stock market development. The first batch of 25 stocks issued on STAR raised around 37 billion yuan ($5.3 billion) and it has been well received by investors. With its clear positioning in support of China's high-tech and strategic emerging industries, STAR represents a major effort by China's reformers to generate new institutional and policy solutions to better finance China's innovation drive.
With a registration-based system, this new board allows innovative enterprises to list before they make profits. It imposes no administrative control over the pricing of new stock issuances and also allows the short-selling of individual stocks to facilitate more efficient price discovery. These institutional designs render STAR a potentially highly dynamic complement to the existing multilayered architecture of China's capital market.
That said, to the extent that the proportion of stock market financing continues to be relatively small in China's aggregate investment expenditures in science and technology innovation, how to improve the efficiency of China's banking system and the internal capital allocation of large corporations remains crucial in the development of China's innovation economy.
The author is an assistant professor at the Centre for China Studies and Faculty of Social Science at the Chinese University of Hong Kong and an assistant professor (by courtesy) at CUHK's Lau Chor Tak Institute of Global Economics and Finance. The author contributed this article to China Watch, a think tank powered by China Daily. The views do not necessarily reflect those of China Daily.
(China Daily Global 08/07/2019 page13)
Today's Top News
Editor's picks
Most Viewed