TESOL looks to 'light fires' for teachers across China
Deborah J. Short wrapped up the 2019 Global English Education China Assembly held in Hangzhou, Zhejiang province, by quoting Irish poet W.B. Yeats, saying "Education is not the filling of a pail, but the lighting of a fire."
Short, president-elect of the TESOL International Association, believes that by lighting the fire among the nearly 3,000 teachers and experts who traveled from across China and beyond to attend the three-day event, they may light similar fires for a large number of students and help improve the world.
"One of the ways to make the world a better place is to be able to communicate with each other. English is one medium of communication," she said.
"China is a country that is very interested in learning English. That distinguishes it from some other countries where a variety of foreign languages have been learned. It is important for us to spread the message that TESOL is promoting exemplary teaching and understanding good research, and using modern and up-to-date activities in the classroom. In this way we hope we can help all of the teachers and learners in China to become stronger English speakers, readers and writers."
During nearly four decades of teaching and researching English, the United States native has directed research projects related to helping students of the language, provided professional development on academic literacy and facilitated instruction worldwide.
With the assembly in Hangzhou marking her first trip to China, Short said she had been most surprised by the breadth of the different sessions and the topics explored.
During her keynote closing speech, she focused on the six principles of the foundation of English teaching, which include "know your students, create conditions for language learning, and adapt lesson delivery as needed".
For the first principle she drew a comparison between teaching the language to airline pilots and younger learners who are acquiring English as a second language.
She also shared her vision of bringing TESOL to more English-language teachers across the world in ways they can use to access current research, build their own specific knowledge base and implement effective techniques in the classroom.
"The assembly here has certainly helped me and TESOL realize that vision, not only through the three-day immersive and intensive experience, but I also hope that when the teachers go back to their classrooms, they will have support from our online communities and other resources," she said.
xujunqian@chinadaily.com.cn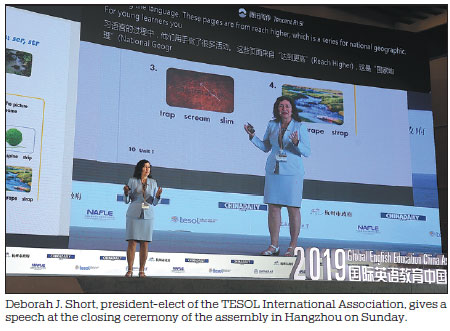 (China Daily Global 07/29/2019 page5)
Today's Top News
Editor's picks
Most Viewed