Xi honored for building Kyrgyz ties
By An Baijie in Bishkek, Kyrgyzstan and Cao Desheng in Beijing | China Daily Global | Updated: 2019-06-14 07:36




Top state award, conferred by counterpart in Bishkek, a symbol of friendship
Kyrgyz President Sooronbay Jeenbekov conferred the Manas Order of the First Degree on his Chinese counterpart Xi Jinping on Thursday in recognition of his great contributions to promoting relations between the two nations.
The ceremony was held at the Ala Archa state residence in the capital, Bishkek, as part of Xi's state visit to the Central Asian country.
The Manas Order, established in 1996, is the highest state award of Kyrgyzstan. It has three degrees and the first degree is the order's top level.
It is awarded to individuals for outstanding contributions to the protection and strengthening of the state and democratic society, the unity of the people, and the economic, spiritual and intellectual potential of the country.
Jeenbekov said in his speech that the order is the embodiment of the symbols of life - the sky, water and sun - and bears the name of the great hero chieftain from the Talas region who united the Kyrgyz people.
"You have made an enormous contribution to strengthening a comprehensive strategic partnership. Thank you for supporting Kyrgyzstan," Jeenbekov said.
Jeenbekov expressed gratitude for Xi's special contributions to promoting the Kyrgyzstan-China comprehensive strategic partnership. Jeenbekov said the Kyrgyz people will never forget China's support.
"Your visit opens a new page in Kyrgyz-Chinese relations," Jeenbekov told Xi.
Xi said the order conferred on him fully demonstrates the deep friendship between Kyrgyz people and Chinese people. "I cherish this," Xi said.
Xi said that he would like to make joint efforts with Jeenbekov to deepen the traditional friendship between the two countries and promote more outcomes for bilateral relations to benefit the people of both countries.
Shortly after Xi landed in Bishkek on Wednesday evening, the two presidents met at the presidential residence. Saying it is his second visit to Kyrgyzstan in six years, Xi spoke of his delight at visiting an old friend.
Xi expressed appreciation for Jeenbekov's remarks on safeguarding the China-Kyrgyzstan friendship on many occasions and said China is ready to share experiences in state governance with Kyrgyzstan to achieve common development and prosperity.
Jeenbekov recalled his attendance last week at a ceremony for the release of the Kyrgyz edition of the first volume of the book Xi Jinping: The Governance of China. He told Xi that the book is significant for his country to learn the valuable experiences of China to advance its reform and development.
Kyrgyzstan is willing to deepen cooperation with China under the framework of the Belt and Road Initiative and wants to get on board the express train of China's economic development, Jeenbekov said.
Contact the writers at anbaijie@chinadaily.com.cn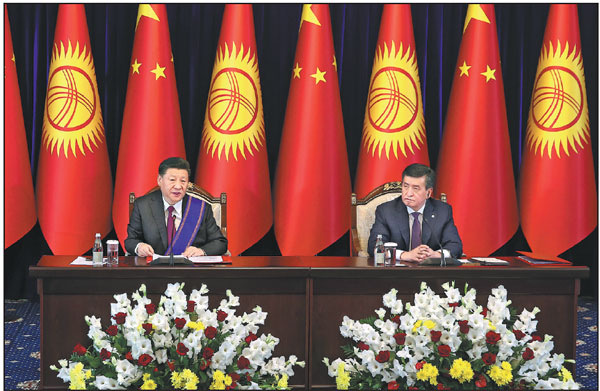 President Xi Jinping and Kyrgyz President Sooronbay Jeenbekov meet with reporters after their talks in Kyrgyzstan's capital, Bishkek, on Thursday. Xi received the Manas Order of the First Degree from Jeenbekov. Wang Zhuangfei / China Daily
(China Daily Global 06/14/2019 page3)
Today's Top News
Editor's picks
Most Viewed