Appetite for fresh food e-commerce grows
Tech-savvy young consumers seeking high-quality produce, healthy lifestyles
While most elderly people in China still rely on their neighborhood markets, the tech-savvy younger generation, particularly those born in the 1980s and 1990s, prefer online grocery shopping.
"After a long day at work, I really don't want to bargain in a wet market or wait in a long line at the payment counter of an overcrowded supermarket. Then online grocery shopping is a good choice," said Shirley Li, a 29-year-old Beijing-based office clerk.
Instead of choosing fast and affordable food delivery services, Li loves whipping up her own meals.
Thanks to e-commerce services and mobile payment technologies, Li can simply log into a mobile app and place an order for groceries online.
These include products like vegetables, fruit, seasonings, eggs, meat and seafood, all of which will usually be delivered to her apartment in about half an hour.
"I am really not that good at finding the freshest ingredients. And I also hate carrying heavy grocery bags back to my home," Li said. "Now I no longer worry about it as platforms offer fresh ingredients, and that makes home-cooked meals easier for me."
Chinese consumers love a little online shopping therapy and just won't settle for anything but the best. In particular, the younger generation's growing appetite for high-quality produce, healthy lifestyles and the convenience brought by the ubiquity of mobile internet technologies are generating an online shopping spree for fresh ingredients.
The size of the fresh food e-commerce market in China soared significantly from 4 billion yuan ($579 million) in 2012 to 139.13 billion yuan in 2017, according to a recent report from the Qianzhan Industry Research Institute. The report forecasts the total size of the domestic fresh e-commerce market will reach 256.5 billion yuan this year, up by 31.7 percent year-on-year.
Qianzhan said in the report that as monthly family incomes increase, people will order more fresh food online. Among families earning more than 30,000 yuan per month, 36.8 percent of consumers will place online orders four times a week, the report said.
Fruit is the most popular category among online grocery shoppers, followed by milk and dairy products, vegetables, meat and poultry, and seafood.
According to the report, China's fresh food e-commerce market experienced rapid development from 2014 to 2015, and then the industry saw a wave of restructuring in 2016.
"A large number of small and medium-sized fresh produce e-commerce platforms went bankrupt or were acquired by large firms. In addition, internet giants such as Alibaba stepped in and have geared up expansion of cold chain logistics and fresh produce supply chain investment. Thus companies with full industrial chain and omnichannel resources will gain key competitive capabilities," the report said.
China is currently the world's biggest e-commerce market with online retail sales in the first quarter rising 15.3 percent year-on-year to 2.24 trillion yuan.
The annual Singles Day continued to break records last year, with sales on Alibaba's Tmall online shopping platform soaring by 27 percent year-on-year for the 24-hour online shopping event on Nov 11. Tmall recorded fresh produce sales of more than 100 million yuan in the first 29 minutes alone on the day.
A total of 50 percent of Chinese consumers bought products online weekly, compared to the global average of 22 percent, according to PwC's Global Consumer Insights Survey 2018. And 59 percent of them were likely to buy groceries online.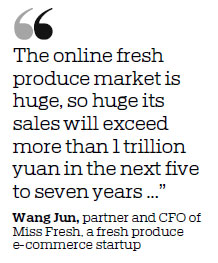 As their purchasing power grows, those of the younger generation are radically changing the consumption patterns established by their predecessors. Compared with their parents' generation, they care more about the quality of products and are actively embracing new technologies.
According to a new report by internet consultancy iiMedia Research, more than 80 percent of those shopping for produce online are under 35 and nearly half earn more than 5,000 yuan a month.
Sensing the huge potential in the market, a growing number of internet companies are making moves and some have already reaped rewards.
After years of development, Tencent-backed Miss Fresh, a fresh produce e-commerce startup, has already become a key player in the industry.
Statistics from TrustData show Miss Fresh topped all other fresh produce e-commerce platforms in terms of monthly active users, gaining 6.8 million monthly active users in March. Specifically, nearly half of new online grocery shoppers are using the Miss Fresh platform.
"The online fresh produce market is huge," said Wang Jun, partner and CFO of Miss Fresh. "So huge its sales will exceed more than 1 trillion yuan in the next five to seven years. To better cater to users' diversified and specific demands, we will accelerate the push to expand offerings and continue to upgrade our front-end warehouses."
Front-end warehouses, which are located close to shoppers' communities and neighborhoods, form the final transition point before fresh produce is delivered to consumers. They are one of the key competencies of Miss Fresh.
With more than 1,500 front-end warehouses in nearly 20 cities around the country, the platform is able to offer its members a one-hour delivery service. With more than 300 buyers, Miss Fresh's supply covers over 30 countries and regions, with 80 percent of products coming directly from producers and factories.
Based on its current fresh produce offerings, Miss Fresh aims to further expand its offering to cover more categories and become an online supermarket.
"Currently, our gross profit margin is more than 10 percent, which can cover costs. And a mature supermarket's gross profit margin will be more than 20 percent," Wang said.
ouyangshijia@chinadaily.com.cn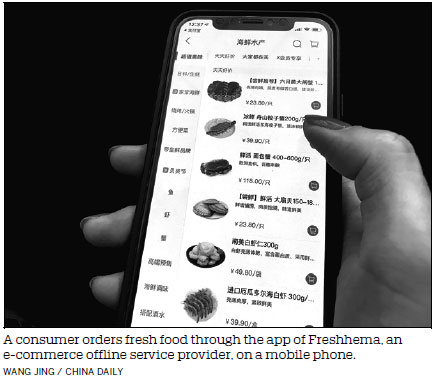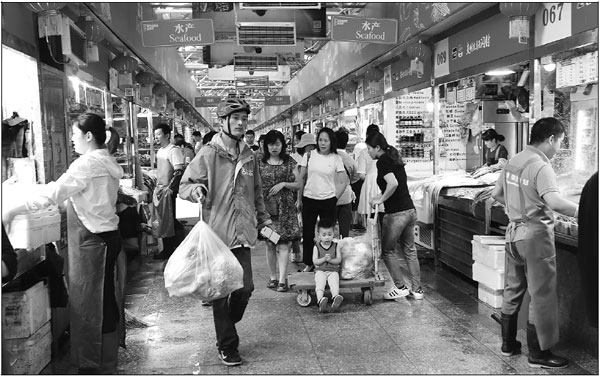 An express delivery man buys vegetables based on online orders at Beijing's Sanyuanli Market. Wang Jing / China Daily
(China Daily Global 06/07/2019 page9)
Today's Top News
Editor's picks
Most Viewed