Sensors and breathability
New technology holds promise of enabling integrated and flexible policy tools that are precisely tailored to different situations in different places
China's battle against airborne pollution dates back to the late 1990s, when acid rain was a main problem due to the emissions of sulfur dioxide and nitrogen oxides. While acid rain was substantially relieved with a series of efforts taken. In 2010, China was unexpectedly hit by a heavy haze, causing significant economic damage and harm to the society. The scenario was similar to London, where the smog in 1952 raised awareness of air pollution control in the United Kingdom. Afterwards, the introduction of a clean air act has led to a significant improvement in the UK's air quality. However, the disconnected air quality management policy and greenhouse gas reduction policy have caused a resurgence of air pollution due to diesel fuel vehicles.
As the concentration of particulate matter decreases, the problem of ozone, an invisible and odor free pollutant that is harmful for human health, becomes increasingly significant. Ozone control has been less effective in some of key regions, especially regions with relatively good air quality.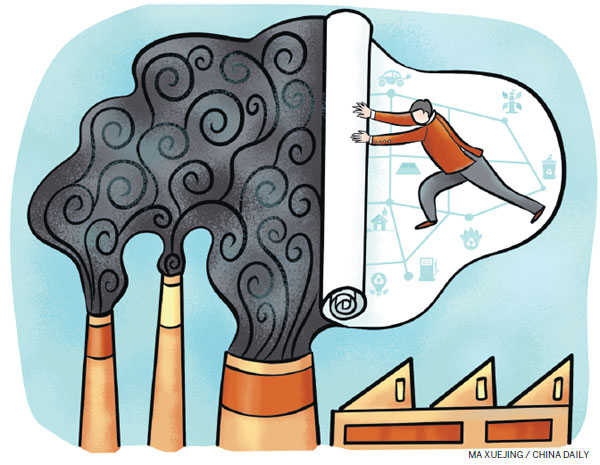 While gloom gathers over the global economy, concerns are growing that China might relax its environmental protection efforts to make space for economic growth. For many people, the requirement for the central government to ban the local government's "one-cut-for-all" policy to shutdown enterprises that were in noncompliance with policies and regulations, is deemed to be a signal that the environmental protection efforts will abate. This year seems to be a critical time to examine China's determination to turn to a high quality green growth development road.
Despite the emerging challenges, we still have enough reason to be optimistic that the decision-makers will be able to find a way to balance the economy and the environment. The question is where the answers can be found.
As the effects of control measures are fading, such as the phasing out of outdated production capacity, fuel replacement and stringent enforcement, China is entering a new era of pollution control - precise and targeted control to replace the easiest "one-cut-for-all" measure. It really needs integrated and flexible policy tools that are able to control multiple pollutants from dispersed and small sources, and that are precisely tailored to different situations in different places.
New emerging technologies offer the opportunity for China to do this. Low cost sensors are a technology that enables monitoring instruments to be more portable and practical. The small size and light weight of the sensors combined with low power consumption mean the instruments can be easily carried by an enforcement officer, mounted on a lamppost or on a drone. The cost advantage means that the sensors can be deployed in bulk, and with the use of the internet of things and big data analysis can illustrate real time pollution events and emission sources.
The disruptive change that low cost sensors can provide is that they can make invisible pollutants "visible" in an affordable way for decision-makers, corporations and the public. With this visualization of pollution in their neighborhood and the sources, everyone can understand their contributions to pollution and know how they can eventually solve the problem with their actions. The huge potential of mobile sensor technology is being demonstrated by the United States and the UK, where the governments are pushing for innovation, standardization and application. The experiences of these countries show that this technology can fulfill China's need to identify hot spots worthy of more attention and action rather than employ its resources on the "assumed" sources.
With projects in the US and the UK utilizing a combination of stationary sensor networks and mobile monitoring, low cost sensors have demonstrated an unparalleled advantage and potential to produce indicative measurements and fill in the gaps between the traditional regulatory monitoring sites.
The pioneering projects in Oakland, California, and Houston, Texas in the US and London in the UK have shown that airborne pollutants' concentration varies hugely over time and has minute geographical variations.
China has recognized the importance of technology in its battle for a blue sky. The Clairvoyance Project, initiated by the Ministry of Ecology and Environment two years ago, utilizes a combination of monitoring technology including satellite remote sensing, regulatory instruments and a network of mobile and stationary monitoring sensors to provide monitoring data with higher precision and spatial-temporal resolution. Now with low cost sensors, more data will be incorporated into the Clairvoyance Project to more efficiently and more precisely identify polluting hot spots. This is a perfect showcase for the fourth wave of environmentalism - utilizing innovative technology that empowers people to take action.
The author is chief representative at the Environmental Defense Fund Beijing Representative Office. The author contributed this article to China Watch, a think tank powered by China Daily. The views do not necessarily reflect those of China Daily
(China Daily 03/13/2019 page13)
Today's Top News
Editor's picks
Most Viewed