Giving modern art a push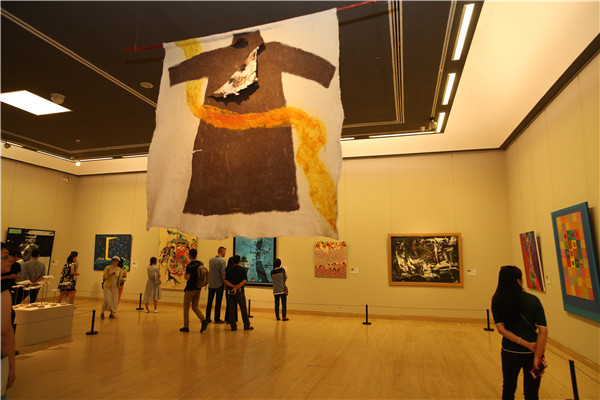 Visitors attend the ongoing Beijing International Art Biennale that features more than 600 paintings, sculptures and installations from more than 100 countries.[Photo provided to China Daily]
The ongoing Beijing International Art Biennale features paintings, sculptures and installations from more than 100 countries. Lin Qi reports.
Bat-Erdene Damdin-suren, an artist from Mongolia, is participating in the seventh edition of Beijing International Art Biennale with an installation called Silk, a tribute to the enduring influences of Silk Road and Maritime Silk Road as well as wider communication among different civilizations.
Speaking about his passion, he says: "Being an artist is a hard job. But it is the best job for me."
The ongoing event features more than 600 paintings, sculptures and installations at the National Art Museum of China in Beijing, with artists from more than 100 countries.
The biennial was launched in 2003 by the China Artists Association. And Damdinsuren says he first showed his work at the third edition of the event-a metal sculpture depicting horses moving in a circle. But he did not attend that event.
"Horses used to be the daily mode of transportation for Mongolians. But these day they are just animals," he says, adding that the work examined the connection between the past and the future.
Damdinsuren works a lot with metal. He says he collects metal objects and transforms them into artworks.
In Silk, he features a red cross made up of two 4-meter-long silk strips on the ground. Then, dozens of metal mousetraps are placed on it, in the formation of four arrows, and they all point to the model of marmot that stands at the intersection of the cross.
Damdinsuren says the red cross is to remind people of peace, while the mousetraps and the marmot indicate conflicts.