Inheritor's handmade clay teapots perfect for summer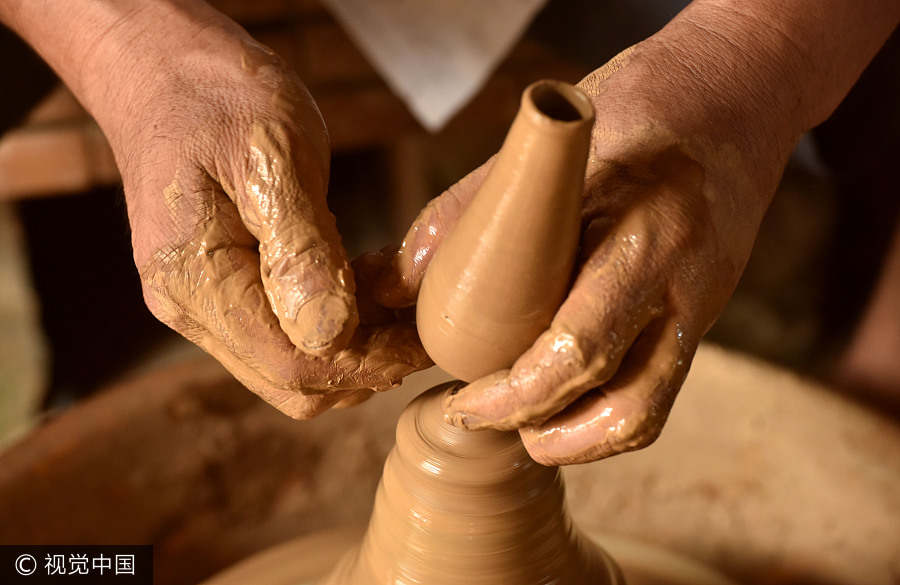 Wu Wanneng makes a teapot lid in Wuyi county, Jinhua city, Zhejiang province, July 26, 2017. [Photo/VCG]
Wu Wanneng, a fifth generation inheritor of a special clay teapot technique from Wuyi county, Jinhua city of Zhejiang province, has been busy making teapots recently, as the lasting scorching weather has helped boost sales.
The clay teapot Wu makes is called the "watermelon pot", because the water in the pot gets cooler as the weather gets hotter.
The creation of this clay teapot in Wu's family dated back to the Qing Dynasty (1644-1911), and Wu inherited the technique from his ancestors. The kiln he uses to make the teapot was passed down by previous generations, which has a history of more than 160 years.
To adapt to modern aesthetic standards and customers' changing demands, Wu has changed the exterior of his teapots, fused more fashionable and cultural elements from the ceramic pot, glass kettle and dark-red enameled pottery. Now his teapots are sold nationwide and to a dozen foreign countries such as Singapore, Indonesia, Thailand, South Korea and Japan.
Wu Waneng has been recognized as a representative inheritor of clay teapot making in the Wuyi county and Jinhua city.