New standards boost age-old martial art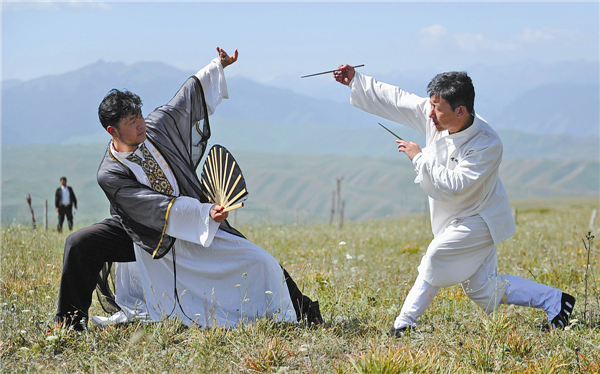 Representatives from different schools of Wushu, a traditional Chinese martial art, demonstrate their skills on the grasslands near Tianshan Mountain for a kung fu show this week. They were criticized online for putting on a show rather than popularizing martial arts. Ma Yuan / for China Daily
Wushu, a traditional Chinese martial art, has made a major development in global self-promotion with the development of a standardized evaluation system over the past two years.
Created by the Chinese Wushu Association in 2011, the Chinese Wushu Duanwei System, a hierarchical system that evaluates practitioners' qualifications, combat skills, theoretical knowledge and martial morality, has effectively provided unified access and understandable education to learners, according to a development report released by the association on Tuesday.
According to the report, 257,137 domestic exercisers and 3,409 overseas practitioners from 69 countries and regions have obtained classifications in the system, which grades players from low to high as follows: Primary Duan (first through third), Middle Duan (fourth through sixth) and Advanced Duan (seventh through ninth).
There is also pre-Duan grading, which has three levels. Each Duan class requires a certain number of years of practice, a level of theoretical and practical ability, martial arts ethics and etiquette.
Wushu, which has long intrigued foreigners with its miraculous moves in kung fu movies and novels, has developed into hundreds of styles and schools, some of which grew in popularly while others gradually vanished.
The charm of wushu's extensive and profound roots has attracted worldwide attention while presenting challenges to promoting the martial-art form internationally. As a result, the introduction of unified standards was important, a top official said.
"The formulating of the Duanwei System helped wushu lift its veil to the world by offering clear classifications, straightforward training methods, and unified management of all schools," said Xiao Tian, China's deputy sports minister, who is in charge of wushu development.
The system covers 23 of the most popular styles, including changquan, shaolinquan and taijiquan (tai chi) out of the 129 schools identified by the CWA, which compiled textbooks, offered assessment methods and organized exams at 629 test centers around the country.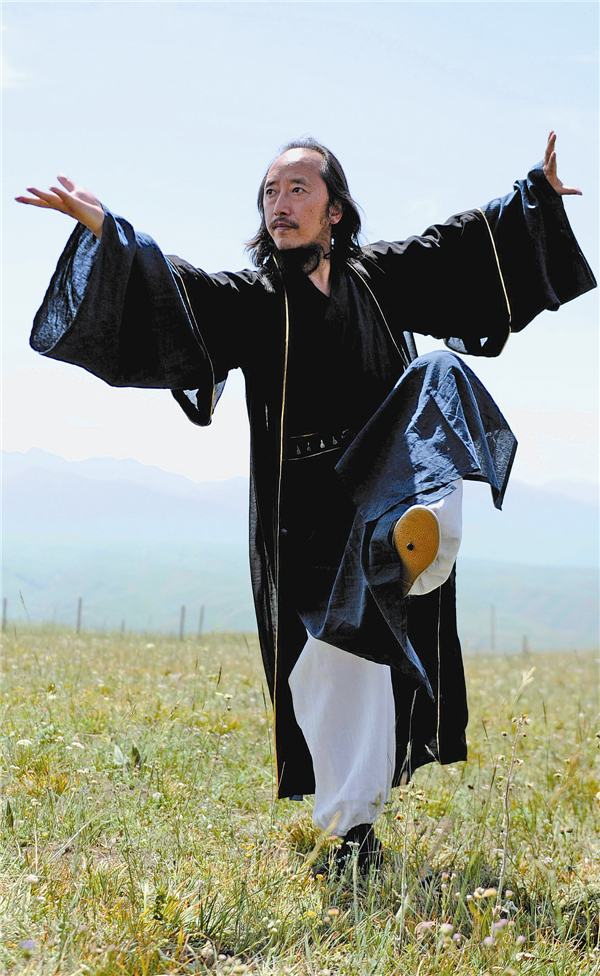 Liu Suibin, a representative of the Qingchengpai, a school of traditional Chinese martial arts, demonstrates his style. Ma Yuan / for China Daily
The standardization has worked well on earning international acceptance but has also sparked disputes in Chinese wushu circles.
"Diversity is the unique character of Chinese martial arts, but it's also a headache," said Wu Bin, the former technical committee director of the International Wushu Federation who trained kung fu star Jet Li in the 1980s.
"Different schools all claimed wushu originated from their tradition, and debates on which style represents the most authentic Chinese martial arts or which one is the strongest never end," Wu said.
Wu said representatives of some schools excluded out of the 23 categories even urged students to boycott the system.
Meanwhile, some leaders of other schools didn't accept the training methods in the system, saying that standardized stunts in textbooks failed to reflect the deep tradition and cultural roots of wushu.
Zhou Jinsheng, master of kunlunpai, which is a longstanding school that originated around the Kunlun Mountains, said the gestures and motions in the system are too simple to embody wushu.
"The categories granted by the system are only a drop in the bucket of Wushu and couldn't represent the massive amount of sects that originated from the grassroots," Zhou said on Tuesday during the Tianshan Mountain Cultural Week.
The Tianshan event, which was held in the Ili Kazak autonomous prefecture of the Xinjiang Uygur autonomous region, invited representatives from 11 wushu schools to share experiences while displaying characteristic skills and uniforms.
However, the event received negative reviews from the public, as the local county governor admitted it was held to promote local tourism, and Wushu fans claimed it was more like a cosplay show.
Still, pundits said such activities should be welcomed as they focus media attention on wushu's development.
"I think it has a positive impact as it helped to gain more exposure," said Kang Gewu, secretary-general of the Chinese martial arts research institute.
"With more and more people paying attention to Chinese wushu, we could better promote the current duanwei system and find something in common among different styles."
Gao Bo contributed to the story.