Art beat (July 13-Aug 22)
Debut art solo show
Important contemporary Chinese artist Yu Youhan is widely acclaimed for his political pop art. He also creates Impressionist paintings, and has been committed to abstract styles and landscapes in recent years. Several works from various periods in his art career are on display at his first solo show in Beijing, at YUAN Space. Yu's work shows the influence of Chagall, Cezanne and van Gogh. He blends the elements of Impressionism with conventional ink-and-water techniques, which has bestowed his works with great stretching forces.
11 am-5pm, until Aug 17, closed on Sundays and Mondays. Reservation required. YUAN Space, 20/F, Tower B, Jiaming Center, 27 Dongsanhuan Beilu, Chaoyang district, Beijing. 010-5775-5070.
In memory of songbird
A concert marking the 60th anniversary of the late Taiwan singer, Teresa Teng, will be held in Beijing. Organized by the Teresa Teng Foundation and produced by veteran musician Lao Zai, the concert will have two young singers, Chen Jia and Wang Jing, whose voices are similar to the late singer. They will sing Teng's classic songs. Born and raised in a small town outside Taipei, Teng's musical talents were discovered at an early age. She left junior high school to pursue a singing career full time. The star was one of the most influential stars from Taiwan to introduce pop music to the Chinese mainland in the 1970s and 1980s. She died of an asthma attack in Thailand in 1995, at the age of 42.
7:30 pm, July 13. Oriental Theater, No 11, Chaoyangbei Dajie, Dongsishitiao subway station, Beijing. 400 610 3721.
Piano in a factory returns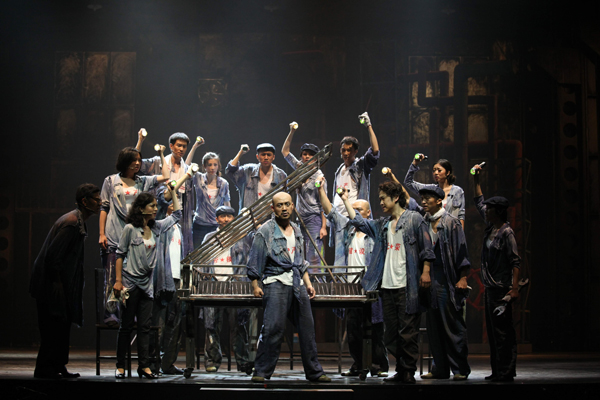 [Photo/China Daily]
Original musical The Piano in a Factory will return to Beijing for its 100th show. Composed by popular songwriter San Bao, the musical tells the story of an iron worker, who makes a piano for his daughter in the factory. It also explores the complex relationship between the father and his ex-wife and girlfriend. For the summer run, Poly Theater will offer cheap tickets ranging from 30 yuan ($4.80), 50 yuan and 100 yuan.
7:30 pm, July 18-21. Poly Theater, No 14 Dongzhimen Nandajie Street, Dongcheng district, Beijing. 010-6506-5343, 010-6506-5345.
NCPA restages Rossini opera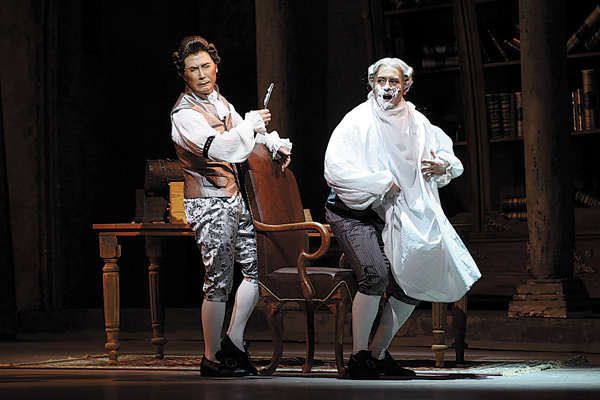 [Photo/China Daily]
The National Center for the Performing Arts will restage Il Barbiere di Siviglia, the two-act opera by Rossini. The revival production is directed by veteran Italian opera director Pier Francesco Maestrini. Italian conductor Pier Giorgio Morandi will take the baton of NCPA's orchestra. Morandi has built up an impressive repertoire of Italian operas since he began his career at La Scala Milan. He has worked with the Royal Opera in Stockholm, the Vienna State Opera, Zurich Opera, the Deutsche Oper Berlin and Arena di Verona among others. Liao Changyong, arguably China's best baritone, will sing Figaro. Mezzo-soprano Geraldine Chauvet plays Rosina.
7:30 pm, July 18-21. West of Tian'anmen Square, Xicheng district, Beijing. 010-6655-0000.
Sino-German ordinary things
Everyday Chinese and German objects are exhibited together under the title Invisible Things at Beijing's Today Art Museum. Curated by Fu Xuefu, Martin Rendel and Rene Spitz, the exhibition demonstrates vivid pictures from Chinese and German lives. These objects are collected by Popcorn Idea Factory in Beijing and by Rendel & Spitz in Cologne, decoding similarity and difference of social systems, cultures and aesthetics of the two countries. It is interesting that the German objects focus on daily living, while the Chinese objects have a strong link to politics and national pride. Some Chinese exhibits, such as honeycomb briquette, are only produced and seen in China.
10 am-6 pm, until July 15. 1st Floor, Hall 3, Today Art Museum, Building 4, 32 Baiziwan Road, Chaoyang district, Beijing. 010-5876-0600.