Booming film industry in past five years: Fast development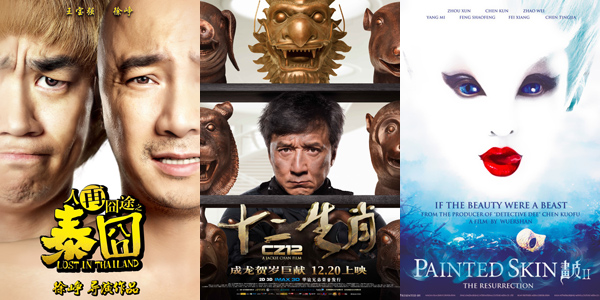 Lost in Thailand, Chinese Zodiac and Painted Skin: The Resurrection are among the top three domestic films by box office receipts in 2012. [Photo/Mtime] 
In 2012, the Chinese comedy film, Lost in Thailand, grossed more than 1.27 billion yuan ($191 million) at the Chinese box-office, representing the first movie in China to earn over a billion yuan, and overtaking Titanic, which earned around 975 million yuan in a decade.
In 2017, the film phenomenon, Wolf Warrior 2, achieved huge success both at the box office and in public praise.
It broke numerous box office records both at home and aboard, scoring 5.68 billion yuan by the end of Oct 22, the single highest-grossing film in the history of Chinese cinema and the first Chinese film to squeeze into the all-time box office worldwide (ranked 55th).
The performance of the Chinese box offices from 2012 to 2017 has been amazing, but that's just part of the booming film industry in China.
Now, in chronological order, let's take a look at what we have seen in movie theaters for the past five years.
The year 2012 is a significant time for the domestic movie market. If we have to describe the year in key words, it should be "fast development".