What's on in Beijing (Sept 9-15)
Discover the best things to do in Beijing with our weekly roundup of art and exhibitions, music and performances, and trending activities to do around town. To recommend an upcoming event or activity, please contact li-ping@chinadaily.com.cn.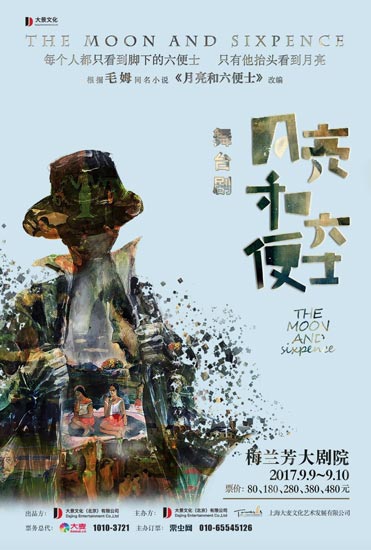 A poster of The Moon and Sixpence. [Photo/Official website of Mei Lanfang Theater]
The Moon and Sixpence
The stage play The Moon and Sixpence, adapted from the novel by W. Somerset Maugham of the same name, will grace Beijing audience this weekend.
Based on the life story of Paul Gauguin, the novel portrays the mind and soul of Strickland, a middle-aged stockbroker who forsakes his family and career to pursue his passion for art.
Learn more here.
If you go:
7:30 pm, Sept 9-10. Mei Lanfang Theater, 32 Ping'anli West Street, Xicheng district. 010-5833-1288.
Ticket: 80-480 yuan ($15-70)