Latest discovery at Shanghai Longping Temple revealed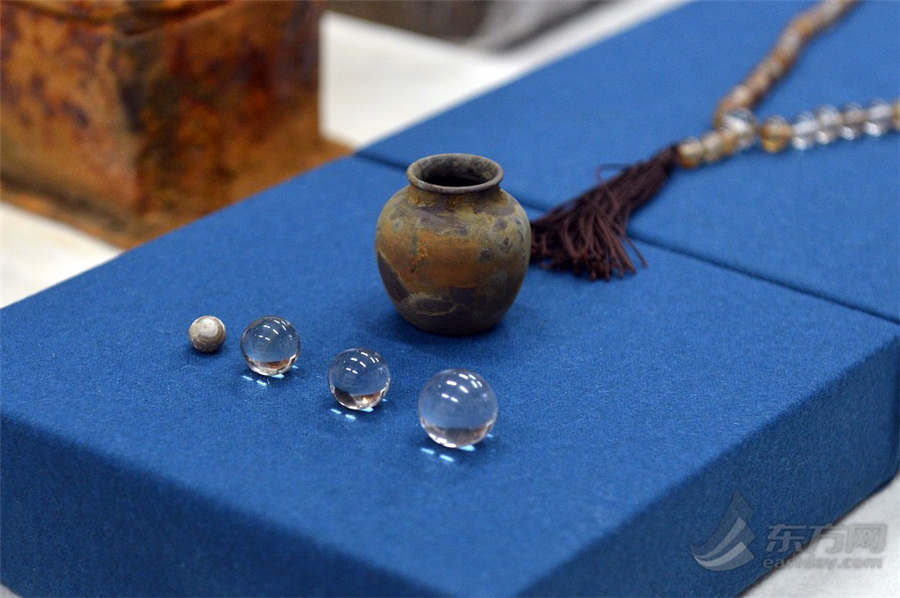 Buddha sariras and the copper vase used to place them unearthed from the ancient Qinglong township ruins are shown in Shanghai, East China, Dec 8, 2016. [Photo/eastday.com]
After six years of excavation, Shanghai Museum introduced the latest discovery of the ruins in Shanghai's Longping Temple on Thursday.
A complete preserved underground palace was found at the foot of the tower at the Longping Temple, which is a rectangle shape, 1.48 meters long, 1.2 meters wide and 1.42 meters high.
The underground palace is concreted with slab stone inside and carpeted with tens of thousands of coins from different periods, ranging from Han Dynasty (206 BC-220) to Song Dynasty (960-1279).
A "taohan", which is a set of boxes used to place Buddha sarira (or sheli in Chinese), was also found in the palace. It has four levels; the outermost is made of wood, iron, gild wood and silver, from outside to inside. Colorful gems are paved at the bottom of the silver box, and a Shakjamuni Nirvana statue is set above.
In addition, offerings include silver chopsticks, spoons, foxes, a turtle statue, copper mirror and crystal Buddha beads are found hidden in the wooden box. A copper vase is found in the "taohan", which has four round beads inside, and three among them are made of crystal, which are guessed to be the holy Buddha sariras.