Sanofi invests in innovation to create healthy outcomes
Pharmaceutical giant uses latest tech to enrich medical treatment in China
Innovation has become a major calling card for the established Paris-headquartered multinational pharmaceutical Sanofi, according to the company's senior executives.

Among the first batch of foreign companies to come to China in the early 1980s after the beginning of China's reform and opening-up, Sanofi has helped improve the health of Chinese people for nearly four decades.
Rooted in China
"Over the past 37 years, it has actively innovated, become deeply rooted into cities and counties across China and provided innovative health services for Chinese," Sanofi China's General Manager and Country Chair Pius S. Hornstein said.
China is now Sanofi's second-largest market after the United States, with robust sales growth. The company earned 2.4 billion euros ($2.67 billion) in net sales in 2018., according to the company.
"By 2025, Sanofi plans to launch more than 30 innovative medicines and vaccines in the Chinese market and accelerate innovation to meet the diversified healthcare needs of Chinese people," he said.
"In the future, Sanofi will continue to innovate in the field of chronic diseases, as well as rare diseases and immunology, while releasing innovative products."
For Sanofi, China is more than a market with huge potential to tap, as the country has been making efforts to transform the healthcare industry and improve access to healthcare services for its people. That is exactly what the company cares about, he said.
Now, the company is getting involved in the Healthy China 2030 agenda, the first medium-to long-term strategic plan in the health sector developed at the national level since 1949.
"We are helping realize the vision through our diversified portfolio of innovative high-quality products," he said.
Aligning with the national agenda, Sanofi China has rolled out its own 2030 plan. It focuses on the prevention and control of five major diseases, devoted to improving Chinese people's health and helping build a healthy China.
Also included in Sanofi's 2030 plan is its investment in research and development capabilities and manufacturing facilities in China, whose size and scope are already part of the company's competitive edge in the China market.
"Sanofi has established three manufacturing sites and four R&D sites focusing on growing healthcare needs ... and one Digital Innovation Hub," Hornstein said.
Digital transformation
In Shanghai, Sanofi has established its China R&D Center, the Asia-Pacific R&D Hub and the Digital Innovation Hub with an aim to build a digital innovative ecosystem with local startups.
The company set up its first global research institution in Suzhou, Jiangsu province on Sept 1.
In Chengdu, Sichuan province, Sanofi has established its Global R&D Operations Hub, to elevate China as the third pillar on its global business landscape after the US and France.
As a wide range of intelligent technologies, ranging from 5G and artificial intelligence to 3D printing, are increasingly used in various sectors in China, "Sanofi will take advantage of these, like AI and big data, to gain more advanced insights and create innovative healthcare solutions," the general manager said.
He added that Sanofi is working with leading internet companies and startups. For example, it will collaborate with Chinese internet giants Tencent. Through AI and big data technologies, the AI-healthcare crossover will promise patients with full solutions that are more than just medicine.
It is also riding the wave of internet hospitals and has begun partnerships with some to provide multidimensional medical services to patients.
"We are dedicated to driving digital transformation and opening up a new era for the healthcare industry and becoming the most digitalized and transformative multinational company in China," a company statement said.
Besides innovation, Sanofi is working on acting as a bridge between China and France - the countries share 55 years of diplomatic ties.
At the second China International Import Expo, which is running until Nov 10 in Shanghai, the company signed a contract of strategic cooperation with Ping An Smart City.
The two companies' advantages in medicine, financial services and the internet will contribute to full cooperation in chronic disease management, big data in healthcare, and innovative health insurance
Sanofi Pasteur signed a memorandum with Shenzhen in Guangdong province to establish a strategic partnership between China and France in terms of developing immunization and vaccines.
Growing together
In March, China passed the amended Foreign Investment Law, which is scheduled to come into effect on Jan 1, 2020. This newly enacted law will help to further expand opening-up and attract more foreign investment, legal experts said.
"It ensures foreign companies like us have a good business environment and business opportunities," Hornstein added.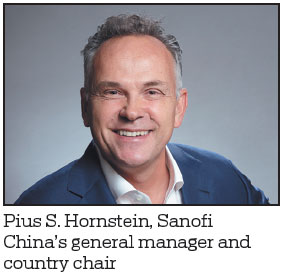 During the 2019 China International Import Expo, which is currently taking place in Shanghai from Nov 5 to 10, nearly 20 products deploying intelligent technologies made by Sanofi are on display. At its booth, Sanofi staff members present digital innovative healthcare solutions through interactive devices in the hope that "audiences will understand the unceasing effort Sanofi has made to improve the health of the widest range of Chinese people", according to the company.
"The CIIE injects new vitality and gives impetus to China's further reform and opening-up and its steps to widen market access," Hornstein said. "Riding on the opportunities provided by the CIIE, Sanofi will further speed up the introduction of innovative products and enrich digitalized innovation and application.
"We will grow together with China's healthcare industry and our partners, benefit more Chinese people and commence on a new journey of future development."
yinruowei@chinadaily.com.cn

Sanofi, an international pharmaceutical company, works to improve healthcare in China.Photos Provided To China Daily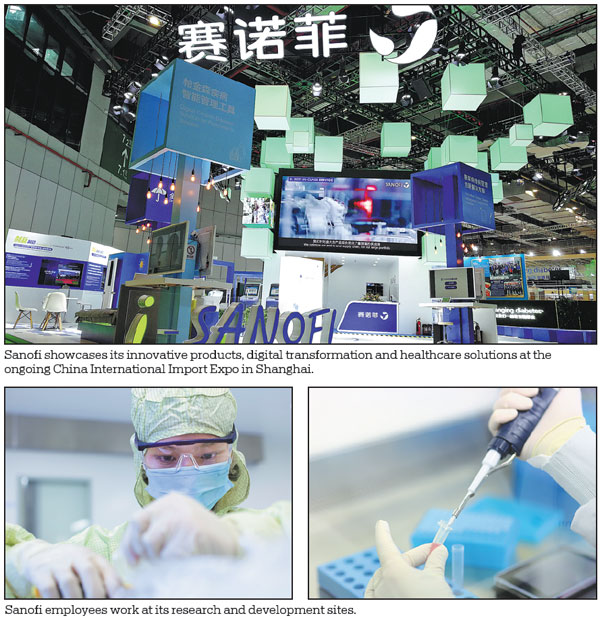 (China Daily 11/06/2019 page12)
Today's Top News
Editor's picks
Most Viewed