European brands eyeing business opportunities ahead of Winter Olympics
As China revs up its preparation for the 2022 Winter Olympics, foreign companies are spotting a niche in the country's increasingly popular ice and snow sports market.
Among them is a French legion of winter sports equipment manufacturers, which said they're eyeing the huge potential of China's "white economy".
MND, a French company that specializes in snowmaking and providing chairlifts and outdoor sports equipment, told Xinhua News Agency that its market share in China has surged to 25 percent from 2 to 3 percent a couple of years ago.
The 2022 Winter Olympics is bringing the company more orders, an executive at the company was quoted as saying.
Ropeway transportation equipment manufacturer Poma has done business in China for 35 years. Its executives told Xinhua that the upcoming Winter Olympics is providing a strong boost to the emerging ski market in China. France can help by providing equipment and offering training, they added.
A senior executive of the company said he is against short-sighted policies and believes that China-France cooperation in winter sports should be focused beyond just the Olympics.
The company's French subsidiaries are located in the Rhone-Alpes region, where the snow-covered Alpes is the origin of modern skiing sports, said Qi Hong, board chairman of Thaiwoo, a skiing-themed town in Chongli district of Zhangjiakou, Hebei province. The city will co-host the 2022 Olympic Games with Beijing.
"European resorts are complementary with ours in facilities, experience and operation capacities," Qi said.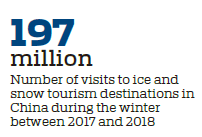 While China and France differ in their winter sports offerings, their cooperation will advance with the Games quickly approaching. The bilateral collaboration in ice and snow sports is mainly focused on equipment supply, as well as events' design and planning, Qi said. He said he expected the cooperation to extend to market operations.
In January, France-headquartered holiday resort chain Club Med partnered with French ski school ESF, which has a history of more than 70 years and a staff of more than 17,000 coaches, to open a new training institution on the outskirts of Beijing.
The new school offers ski training to those interested in winter sports, including children older than 3, Sebastien Portes, general manager in charge of Club Med's operations in China's Hong Kong and Taiwan regions, told China Tourism News.
Sporting skills and fun are both valued at the school, according to Portes, who added that coaches at the school are experts on dealing with children and enabling them to experience the thrills and excitement of skiing.
A report released by the China Tourism Academy found that the winter between 2017 and 2018 saw 197 million visits to ice and snow tourism destinations across China, bringing in roughly 330 billion yuan ($47.15 billion) in tourism revenue.
In China, some 20 percent of winter sports enthusiasts will try again after their first ski experience, and the majority of the beginners will turn to coaches for help. Currently, more than 500 ski resorts are in operation across the country, China Tourism News reported.
The China International Import Expo is a key platform, through which Club Med hopes to show its expertise and resources around the world and promote the Sino-French cooperation in the leisure tourism industry, Henri Giscard d'Estaing, president of Club Med, told Xinhua.
China is attaching increasing importance to ice and snow sports, which provide opportunities for European companies with history and tradition in the field, he said.
For his company, China is not just a market, but a place to learn and improve marketing tactics, Giscard d'Estaing said.
In addition to the business community, the collaboration between local governments in the two countries is also on the rise.
A delegation from Hebei province signed agreements on cooperation with the Auvergne-Rhone-Alpes region in France in November 2018.The region hosted the Winter Olympic Games in 1924, 1968 and 1922.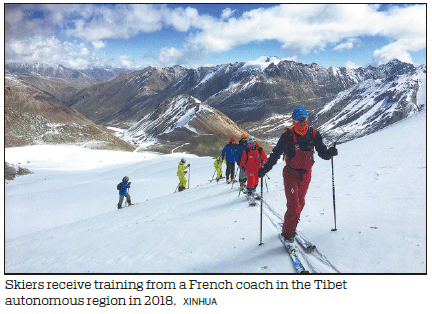 (China Daily 11/06/2019 page15)
Today's Top News
Editor's picks
Most Viewed