New Lahore-Kashgar bus service promises memorable journey
ISLAMABAD - A Pakistani private transport company launched a bus service connecting Pakistan and China on Saturday.
The new bus service was launched by Shuja Group under the brand name Shuja Express.
According to CEO of the company Muhammad Anwar, the new bus service runs on Monday, Tuesday, Saturday and Sunday from the eastern city of Lahore in Pakistan to the Chinese border city of Kashgar, and from Kashgar to Lahore on Tuesday, Wednesday, Thursday and Friday.
The bus sets off at 12 pm (local time) from Lahore and its first stop is the Pakistani capital Islamabad where breakfast is served. Then the bus stops in the northern city Mansehra for a tea break, then Bisham for lunch. Passengers will be offered an afternoon tea break at Chilas and a lavish dinner at Gilgit, Anwar said, outlining the journey from Lahore to Kashgar.
In all, a one-way journey takes 30 hours, but the management of the company claims that no passenger will be left tired even after two days of travelling and it will be a memorable journey for them.
As part of the China-Pakistan Economic Corridor, Humayun Iqbal Shami, chairman of the Pakistan Economic Forum, called it a big day in relations between the two countries.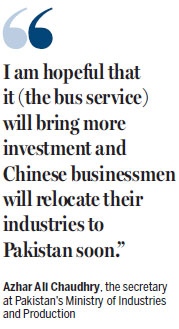 "This bus service will bring a flood of tourism between the two countries because the bus will make many tourist sites accessible for passengers," he said.
Shami proposed both countries also build a rail link.
"Since a large volume of cargo will be shipped to Gwadar Port and then transported to China, therefore the existing single carriage way on through the Karakoram Range will be insufficient for smooth transportation, a rail link between Kashgar to Islamabad would be practical to link Kashgar with Gwadar Port," he said.
Chairman of the Board of Investment Pakistan Haroon Sharif, hailing the new bus service, told Xinhua News Agency that the business community of both countries can benefit from the move. He is hopeful that this step will open new avenues of economic relationships between the two countries, and he called on Chinese investors to invest in Pakistan where ample opportunities are available.
Azhar Ali Chaudhry, the secretary at Pakistan's Ministry of Industries and Production, said he considers it to be another step in a long journey of development for Pakistan.
"I am hopeful that it will bring more investment and Chinese businessmen will relocate their industries to Pakistan soon," Chaudhry said.
Xinhua
(China Daily 11/05/2018 page20)
Today's Top News
Editor's picks
Most Viewed