Diplomacy with 'correct conception'
At the two-day central conference on foreign affairs work in Beijing, which ended on Saturday, President Xi Jinping underscored the importance of keeping in mind both domestic and international imperatives in the nation's foreign affairs work. He said the country's diplomatic work should take national rejuvenation and promoting world peace and common development as the main tasks, strive to build a community with a shared future for mankind and firmly safeguard the country's sovereignty, security and development interests.
He especially emphasized the importance of the "correct conception" of China's role, which means, to judge China's role on the international stage and its ties with other countries, and therefore use China's diplomacy to create an international environment conducive to realizing its goals.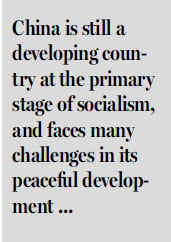 To correctly judge China's role will be very important for decision-making in China's diplomacy. In his report to the 19th National Congress of the Communist Party of China, Xi, who is general secretary of the Party, said: "We must recognize that the evolution of the principal contradiction facing Chinese society does not change our assessment of the present stage of socialism in China. The basic dimension of the Chinese context, that our country is still and will long remain in the primary stage of socialism, has not changed. China's international status as the world's largest developing country has not changed."

Today's Top News
Editor's picks
Most Viewed