Minerals and gems expo set to sparkle in Chenzhou
Latest event will showcase Hunan province city's expanding business opportunities and draw international interest with exciting exhibits and displays
The China (Hunan) International Minerals and Gem Expo - staged each year in the city of Chenzhou, Hunan province - is set to again draw international interest and showcase the city's bright business opportunities, according to local officials.
This year's expo, the sixth show, will open on Friday and organizers said it will be another dazzling extravaganza.
They said a total of 2,800 exhibition stands, covering about 120,000 square meters, have been booked by more than 1,000 exhibitors from over 50 countries and regions including France, the United Kingdom, Italy, Germany, Belgium and Brazil.
Liu Zhiren, mayor of the mineral resource-rich city, said he believes the expo will continue to play its role as a platform to publicize the city's business environment and forge deals, helping attract overseas businesses and push local companies into international markets.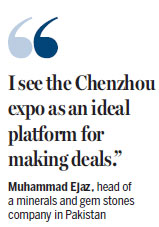 According to Liu, during the past three expos, Chenzhou's companies signed agreements on more than 50 deals with investors from outside the city, with total investment topping 50 billion yuan ($7.89 billion).
The latest expo in Chenzhou will prove to be one of the favorite trade shows for minerals and gems industry insiders in the world, according to overseas representatives attending the show.
Its popularity is also underscored by statistics from the organizers, showing that recent shows attracted over 300 overseas exhibitors each year, a ration of about a third of the total number of exhibitors.
"I usually attend more than 10 international gem shows every year, including those in the United States, Germany and France," said Muhammad Ejaz, head of a minerals and gem stones company in Pakistan.
"I think the Chenzhou event is the second-biggest show."
Ejaz, who said his company is among the biggest in the trade in his country, said this year will be his third time at the Chenzhou show.
He said he will bring a big surprise for visitors at this year's expo by displaying the world's largest aquamarine gemstone.
"I see the Chenzhou expo as an ideal platform for making deals," he said.
The number of overseas exhibitors at the sixth expo will reach 350, about 10 percent more than the number at the last event, organizers said.
They said nearly 300 metric tons of minerals and gems from overseas will be displayed this year.
Eye-catching exhibits from home and abroad include the world's most complete fossilized dinosaur found in the US - with preserved tissue and skin, the world's biggest piece of rhodochrosite stone discovered in China, and one of world's most precious rubies displayed by a company from Thailand.
According to the organizers, the mummified dinosaur, which will be the star exhibit of the expo, arrived in Chenzhou on May 5.
The fossil was discovered in the state of Montana and now belongs to a collector in Taiwan province.
The exhibit is 12 meters long, 3.5 m wide and 1.8 m tall, with more than 70 percent of its fossilized bones, skin and soft tissue intact.
Zheng Jianrong, general manager of the Chenzhou International Mineral and Gem Expo Co, the company organizing the event, said there was a tremendous sense of anticipation.
"For the safe transportation of the fossil, the dinosaur mummy was packed in 11 boxes and it took more than a year for it to travel from the US to Taiwan and from Taiwan to Shanghai and at last arrived in Chenzhou on May 5," she said.
"I am very excited about the exhibit and I'm sure that visitors will be astonished when seeing it by themselves."
Zheng said the most exciting thing about the dinosaur mummy was that most of its skin was well preserved, giving people an exact idea of what the creature looked like millions of years ago.
"We have wrapped the fossil in 'special clothing,' allowing visitors to touch the exhibit closely," she said.
In addition to exhibiting precious minerals, gem stones and fossils, there will be a number of related activities, according to organizers.
These include a selection of "star of mineral crystals", a trade fair for gems and precious stones, a photography contest for mineral crystals and an onsite auction.
Mayor Liu said the city aims to build the expo into an event with local characteristics and international influence, and a platform for international exchanges in the fields of business, science education and tourism.
zhaoshijun@chinadaily.com.cn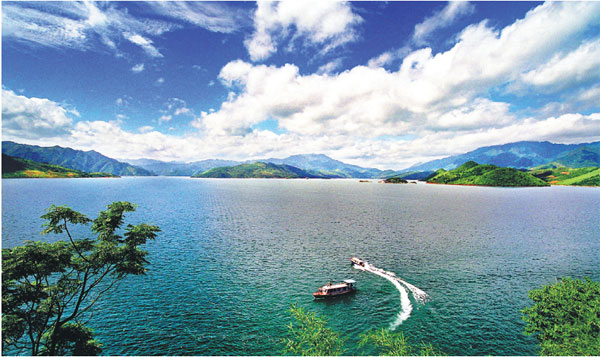 The picturesque Dongjiang Lake, located to the east of Chenzhou's urban center, is a top tourist and recreational destination for the city.Photos Provided To China Daily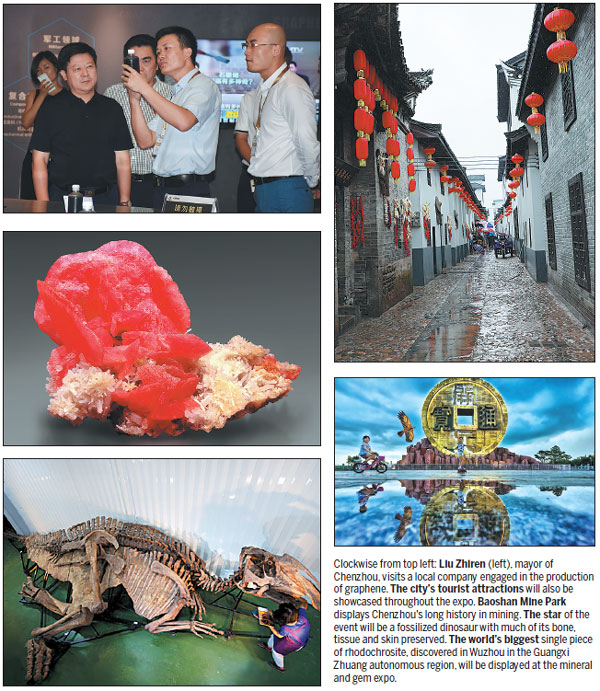 (China Daily 05/17/2018 page12)
Today's Top News
Editor's picks
Most Viewed