DreamWorks wins cybersquatting case
DreamWorks Animation has prevailed in a key court case over disputed domain names that took place recently in Xiamen, Fujian province.
The court battle followed the animation powerhouse's discovery that a Chinese resident surnamed Zeng had registered two domain names: orientaldreamworks.com and shanghaidreamworks.com.
Zeng registered them in 2011 via eName, a domain register and management portal based in Xiamen, according to Xiamen Daily.
The group then filed a complaint with the World Intellectual Property Organization's Arbitration and Mediation Center in Geneva, Switzerland, to challenge the ownership.
The center ruled in favor of DreamWorks, as it identified Zeng's actions as cybersquatting.
Cybersquatting, also known as domain squatting, is the practice of registering an internet domain name with the bad faith intent of profiting from the goodwill of a trademark belonging to someone else.
Disputing the decision of the WIPO arbitration center that ordered him to transfer the two domain names free of charge, Zeng initiated legal proceedings with a district court in Xiamen.
The plaintiff claimed that although the two domain names contain words identical to DreamWorks, a trademark of the animation producer, they could not be counted as an infringement.
Zeng asserted that was because they were being used as names of educational websites that provide English language training, which was different from the category of the registered trademark.
In response, the company said that as a result of years of international promotional efforts and publicity campaigns, the expression "dream works" it created had built up close links with its corporate identity as an established logo.
As a result the phrases used in the domain names were misleading the public about a relationship between them and DreamWorks, the company told the court.
The animation maker has been granted the trademark "DreamWorks" and its corresponding Chinese expression in a variety of commodity and service sectors in China since the 1990s. It has also registered domain names including "dreamworks" itself.
The court recognized DreamWorks' legal rights, due to the prior widespread use of its trademarks, logo, business markings and domain names including "dreamworks" worldwide. The group had established its reputation before the two disputed domain names were registered, the court found.
Adding some other words before "dreamworks" could not distinguish the disputed domain names from Dream-Works, the judges ruled.
Evidence presented to the court showed that Zeng never used the disputed domain names between their registration in 2011 and December 2013, and quoted a price of at least 100,000 yuan ($15,940) to sell them.
In addition, Zeng had registered more than 200 other domain names.
As a result, the court concluded that the registration in question was made for calculated profit from their later sale, rather than for regular commercial operations.
This was a typical cybersquatting case, the chief judge told Xiamen Daily.
The judge added that the question of whether registered domain names were used during the course of regular business practice was factored into the court's decision on infringement.
He said the reputation of a trademark that was in use prior to the case was another "important consideration."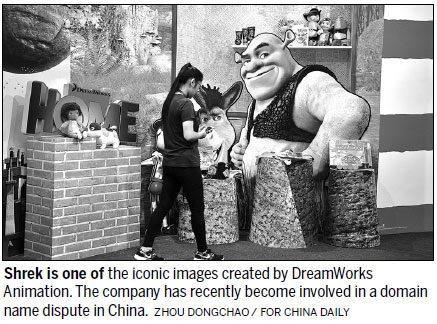 Domain disputes see record numbers
The World Intellectual Property Organization's Arbitration and Mediation Center handled an all-time high of more than 3,000 domain disputes in 2017, the UN agency announced in mid-March.
Three industries - banking and finance, fashion, and internet and information technology - accounted for nearly one-third of all cybersquatting disputes handled under the Uniform Domain Name Dispute Resolution Policy.
"By abusing trademarks in the domain name system, cybersquatting undermines legitimate commerce and harms consumers," said WIPO Director General Francis Gurry. "This is true especially where squatters use domain names to offer counterfeit goods or for phishing, as is seen in numerous WIPO cases."
In total, parties from 112 countries were involved in domain case filings last year.
The United States remained the country where most WIPO-processed domain disputes originated, with 920 cases filed in 2017, followed by France with 462 cases; the United Kingdom, 276; Germany, 222; and Switzerland, 143.
Cybersquatting disputes relating to new generic top-level domains accounted for more than 12 percent of WIPO's 2017 caseload, which in total covered 6,370 domain names. Of them, registrations of ".store",".site", and ".online" domains were the most commonly disputed.
With the addition in 2017 of ".eu" and ".se" representing the European Union and Sweden, respectively, 76 country code top-level domain registries have now used WIPO's dispute resolution service.
Country code top-level domain registries accounted for 17 percent of WIPO filings in 2017.
Since the Arbitration and Mediation Center administered the first UDRP case in 1999, total WIPO case filings passed the 39,000 mark last year, including over 73,000 domain names.
(China Daily 03/29/2018 page17)
Today's Top News
Editor's picks
Most Viewed