Medical services look set to get clean bill of health from quality initiative
Weifang Hi-tech Industrial Development Zone is pushing to improve the quality of its medical services, to help create a better quality of life for local residents.
The zone's medical service authority released a quality enhancement action plan on Sept 5, vowing to improve the overall quality of the region's medical services in 100 days.
A beneficiary of the plan, a resident who suffered from diabetes, has received treatment at the People's Hospital in the zone for many years. But she wanted to transfer to its Sunshine Union Hospital, and was daunted about the complicated transfer procedures.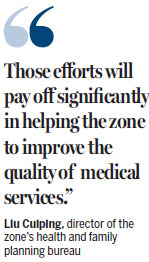 The People's Hospital learned of her request and helped with the transfer quickly.
"I never imagined the transfer procedure could be so easy. The hospital helped me to settle everything," she said.
Zhang Jing, deputy director of the zone's health and family planning bureau, said there had been a big overall improvement in patient admissions, discharges and transfer procedures.
"We've taken measures to provide all the necessary information to the patients' new hospital to help them settle down better," Zhang added.
The zone encourages hospitals to recognize the results of medical tests from other hospitals to help patients reduce their financial burdens. The move will also help the zone to save medical resources.
Another resident said she visited the Sunshine Union Hospital to get an opinion about a brain condition, diagnosed by a hospital in Ji'nan, capital of Shandong province.
She brought her MRI scan, or magmatic resonance imaging results, obtained from Ji'nan, to the zone's hospital to see if doctors could make suggestions based on the existing findings.
Sunshine Union Hospital doctors then provided medical advice after looking at the results, helping her save nearly 1,000 yuan ($154).
The zone's hospitals have also launched one-stop service platforms and established systems to deal with patients' complaints - to provide the most convenient, effective, transparent, and safe medical services.
"Those efforts will pay of significantly in helping the zone to improve the quality of medical services, create a cozy caring environment, improve patient satisfaction levels about the medical system and strengthen relationships between patients and doctors," said Liu Cuiping, director of the zone's health and family planning bureau.
Cui Chengwang contributed to this story.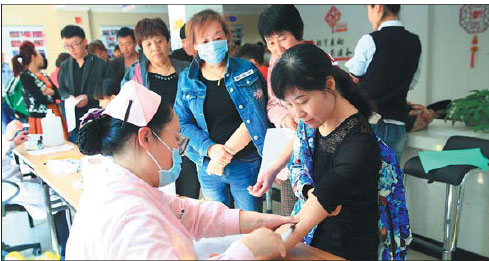 Medical professionals at the Weifang high-tech zone's People's Hospital offer free checkups for residents in Xincheng subdistrict.Provided To China Daily
(China Daily 12/07/2017 page10)
Today's Top News
Editor's picks
Most Viewed