Changchun's GDP, reforms lead Northeast China
Changchun, capital of Jilin province, achieved steady economic growth in the first three quarters of this year, playing a leading role among cities in Northeast China.
According to official statistics, Changchun's GDP reached 426.29 billion yuan ($64.27 billion) from January to September, an 8 percent increase year-on-year.
The statistics show that Changchun's GDP growth was 2.3 percentage points higher than Jilin province's for the period, ranking No 1 among the four major cities in Northeast China. The other cities are Shenyang, capital of Liaoning province, Harbin, capital of Heilongjiang province, and Dalian, also in Liaoning.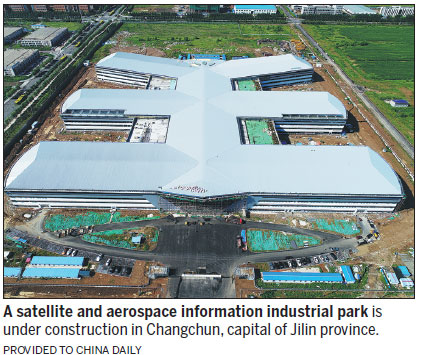 As the province's growth rate fell to 5.7 percent in the first three quarters, year-on-year, it was difficult for Changchun to maintain its 8 percent growth, local government officials said.
The city contributed 53 percent to the province's total economy in the period, increasing 1.9 percentage points year-on-year.
The added value of the city's industrial enterprises above the designated size totaled 194.68 billion yuan from January to September, climbing 9.3 percent year-on-year. The designated size refers to companies with annual sales revenue of more than 20 billion yuan, a baseline for inclusion in certain official statistics.
That growth rate is 3.9 percentage points higher than the province's overall figure, ranking No 5 among sub-provincial cities across China.
Investment in fixed assets reached 407.38 billion yuan in the period, an increase of 11.5 percent year-on-year.
The official statistics show that the service industry has made great progress, with a year-on-year growth rate of 8.9 percent for the first three quarters. Investment in the sector increased by 12.7 percent.
Many large commercial complexes have completed construction and been put into operation in the city, such as Eurasia New Life Plaza, Macrolink Outlets and Future Land Shopping Mall.
Changchun-based China FAW Group achieved an output value of 316.7 billion yuan in January to September, an increase of 7 percent on the same period in the previous year.
Changchun has been promoting agricultural supply-side structural reform. With the promotion of five major modern agricultural experimental zones, total grain output is expected to reach a new record, according to local officials.
The number of ongoing projects in the city, each valued at more than 100 million yuan, has reached 1,243, more than the total number seen last year.
The local government said that Changchun is accelerating the adjustment of its economic and industrial structures, and remodeling its development pattern.
Many new business patterns are emerging constantly, such as the service economy, sharing economy and subway-oriented economy.
The cloud-computing technologies of Huawei, the Chinese telecom giant, and the big data operations of Inspur, a major server manufacturer in China, have injected new vitality into Changchun's growth.
The city said it will start a new round of campaigns to attract investment projects in the last quarter of this year.
Contact the writers through caoyingying@chinadaily.com.cn
(China Daily 11/21/2017 page10)
Today's Top News
Editor's picks
Most Viewed