Model showcases state-of-art science and technology
Debuting internationally at Auto Guangzhou 2017 on Friday, the all-new BMW 530Le iPerformance integrates sheer driving pleasure, intelligent energy management and a feeling of luxury with intelligent and convenient charging services.
This premium plug-in hybrid model is a showcase for the state-of-the-art, levels of science and technology that have been reached by new energy vehicles in China, and will bring the enterprising business elites an exceptional driving experience.
"The introduction of the all new BMW 530Le iPerformance once again affirms our position as a leader in the new energy field," said Johann Wieland, president and CEO of BMW Brilliance Automotive Co Ltd.
"We already offer the richest new energy product portfolio, with development, manufacturing, charging and outstanding services, all part of our competitive advantage," he continued.
The new BMW 530Le iPerformance is visually differentiated with iPerformance design elements such as the blue kidney grille slats, "eDrive" door sill plate and i-badge.
Entering the market in early 2018, the all-new BMW 530Le iPerformance is not only equipped with the latest third generation eDrive technology - all of the 5 Series high-tech features are optional on this model.
In the near future, a wireless charging special edition will be launched for an even more convenient charging experience.
Additionally, the BMW 530Le iPerformance is now listed on the National New Energy Vehicle Catalogue issued be the Ministry of Industry and Information Technology. Customers are eligible for subsidies from both central and local governments, besides the purchase tax exemption and free license plates in cities like Shanghai.
Jochen Goller, senior vice-president of BMW Brilliance said: "Thanks to the advanced energy management system in the all-new BMW 530Le iPerformance, the power transition is so smooth you can hardly notice it."
The TwinPower Turbo petrol engine's 2.0-liter displacement works in tandem with the electric motor, to create an exceptionally economical and powerful plug-in hybrid drive system.
BMW's unique eBoost function provides maximized power for the combustion engine and electric motor during rapid acceleration, from 0 to 100 kilometers per hour in 6.9 seconds. It also offers the brand's renowned Driving Experience System switch, with its Sport, Comfort and Eco Pro settings and Adaptive Drive.
Goller said: "The e-Boost is always on, and with this fast acceleration is repeatable at any speed. Customers can choose to drive the car either purely on electric, or alternatively in gasoline or hybrid mode.
"We at BMW call this: electrified driving pleasure."
The new BMW 530Le iPerformance is also equipped with an intelligent, adaptive rear suspension, which automatically adjusts its height.
Compared with the previous generation 5 Series plug-in hybrid electric vehicle, the weight of the latest model has been reduced by 190 kilograms, 100kg of which is from the battery design.
The acclaimed Intelligent Display Key will be available for the BMW 530Le iPerformance. This ultramodern touch screen key gives status, security and service information, including mileage. Air conditioning can also be turned on or timed remotely.
The BMW Connected mobile app provides drivers vehicle information and a 360 degree 3-D view of the car and its surroundings.
Cutting-edge, intelligent cabin technology includes Natural Language Understanding, Gesture control, a 10.25-inch touch screen, iDrive system and thermo sensitive buttons. These five features enable supremely intelligent, luxury and convenient in-car control.
The new BMW 530Le iPerformance has distinct design elements such as the BMW i blue kidney grille slats, "i" and "eDrive" badges, C-pillar and sill plate highlighting eDrive technology. The blue ring design BMW logo underscores the unique identity of the model.
A full range of premium charging services are being provided for the electric car users, including free BMW Wallox and free standard installation. A sleek new BMW Wallbox charges the vehicle in only four hours from 0 to 100 percent energy, and is capable of identifying up to 20 different users.
For public charging, BMW customers will be able to access a public charging network including 65,000 pillars in more than 60 Chinese cities. Customers can find and navigate to chargers via multiple digital channels, through the in-car navigation system ReachNow, WeChat official account, or BMW Connected mobile app.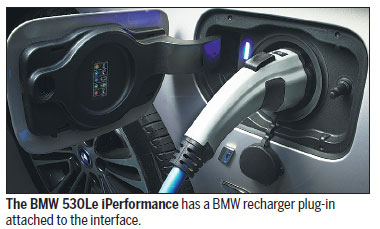 (China Daily 11/21/2017 page15)
Today's Top News
Editor's picks
Most Viewed