Swire Properties, Beijing Music Festival bring high art to capital
Swire Properties is working closely with the annual Beijing Music Festival, supporting and sponsoring high-quality cultural performances in its venues around the capital city.
Due to the close collaboration between BMF and Swire Properties, more and more classical music, high-art performances and creative works have come to Beijing.
All these have made Swire Properties' Taikoo Li Sanlitun a genuine Beijing cultural landmark, and have allowed the public to experience creative arts and music.
A Chinese saying goes, while it is easy to relieve one's frustrations by turning to music, it is extremely challenging to find a bosom friend to share that music with.
However, BMF is lucky to have many companions to share in its common visions and values, and Swire Properties is one of its most outstanding companions.
Encounters
BMF and Swire Properties first began working together in 2010.
A key early performance the two have hosted is renowned pianist Li Yundi's master class in The Orange venue at Sanlitun Village, which was renamed as Taikoo Li Sanlitun in 2013.
Li played his favorite pieces by composer Chopin, offered a critique to piano students from various musical institutions and answered questions about his music career and performances.
The master class was broadcast directly outside The Orange via an LED screen, allowing many more passersby to witness the masterful performance.
According to Swire Properties, BMF commits itself to bringing high-quality music and art experiences to all audiences, which perfectly matches its commitment to building communities.
With its long-standing commitment to building communities, Swire Properties transforms neighborhoods and connects them to the latest developments in art, shopping, music and culture.
By collaborating with BMF, the fashion landmark of Beijing Taikoo Li Sanlitun has also gained a more profound cultural appeal.
Yu Long, the artistic director of BMF, said: "We share the same vision with Swire Properties in building and enriching the cultural life in Beijing's communities.
"By presenting BMF performances as well as major community and educational outreach events in Taikoo Li Sanlitun, we make music and contemporary lifestyle interact, while BMF becomes closer to the heart of Beijing's cultural life."
Yu said Sanlitun's fashionable and energetic atmosphere endorses BMF.
He said he hoped that the cooperation would strengthen in the future and that Swire Properties can play a more important role in connecting art and life in the city.
BMF will help more and more music lovers to enjoy international concerts in China, according to Yu.
Innovation
Having achieved great success from their very first collaboration, BMF and Swire Properties have proactively strengthened their long-term cooperation in many different art fields.
Since 2010, BMF has organized numerous cultural activities and performances at Taikoo Li Sanlitun, covering diverse genres.
In 2011, BMF launched its Urban Series music program in collaboration with Swire Properties.
By introducing contemporary and dynamic performances, the series has attracted new, young audiences to the renowned festival, and promoted arts and culture as essential elements of an urban lifestyle.
With the successful hosting of many performances, the Urban Series has brought increasingly fresh experiences for audiences, including Ju Percussion Group's concert; a musical conversation program hosted by renowned singers Cui Jian and Luo Dayou, and conductors Tan Dun and Yu Long; the Ukulele Orchestra of Great Britain's Also Sprach Zarathustra, an adapted version from Richard Strauss' symphonic masterpiece.
Since last year, mini operas have also been performed on stage at Taikoo Li Sanlitun. After making a great sensation with Don Giovanni in 2016, Silent Opera comes back this year to debut Czech composer Leos Janacek's The Cunning Little Vixen, which has won unanimous praise.
Muziektheater Transparant presented La Voix Humaine, a one-act opera by French contemporary composer Francis Poulenc, treating the audience to a midnight in Paris experience as they enjoyed the touching story.
Integration
Differing from other sponsors, Swire Properties is also BMF's venue partner.
In 2012, for the first time, BMF presented a large number of its concerts in a creative new venue - The Orange in Taikoo Li Sanlitun.
On Aug 3, 2015 when the 18th BMF convened its news conference, The Red venue, in Taikoo Li Sanlitun North was officially unveiled.
By making the young, fashionable Taikoo Li Sanlitun its home, high art has naturally spread widely and deeply, becoming a part of people's daily life.
The move reflects what Liu Suola, a renowned musician and composer, said, that art should not be treated like antiques kept in museums, but should be modern and charming, and should blend right in with the fast-paced urban lifestyle.
BMF has begun to work alongside INDIGO, Swire Properties' second development near Beijing's 798 art district. The two parties have created a public benefit "family weekend", which allows more local families to come into contact with high art.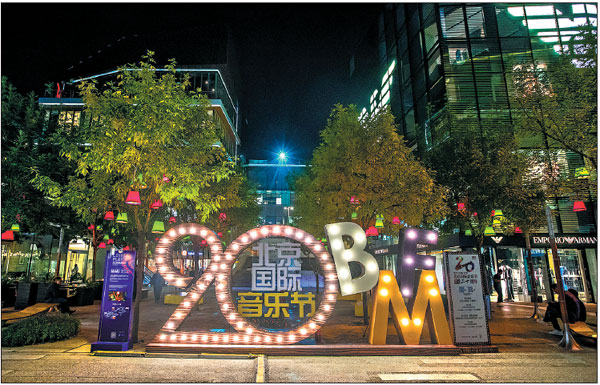 An advertisement for the 20th anniversary of Beijing Music Festival at Swire Properties' Taikoo Li Sanlitun, a genuine Beijing cultural landmark.Photos Provided to China Daily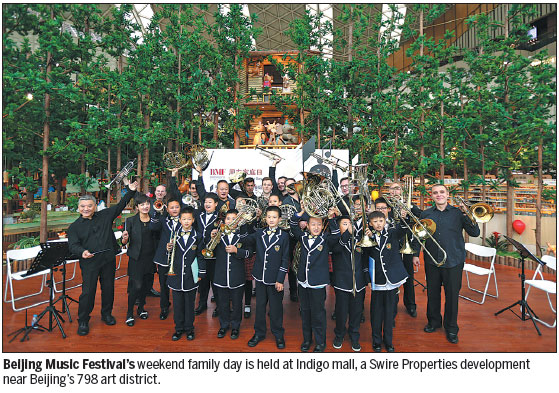 (China Daily 11/02/2017 page19)
Today's Top News
Editor's picks
Most Viewed