GAC Motor delivers 380 vehicles for the 2017 Fortune Global Forum
Boosting its core competitiveness by focusing on innovation-driven business will be a key driver for GAC Motor - one of China's homegrown automakers - to maintain sustainable development in the years ahead, according to a senior company executive.
"The company's business will be driven more by technological innovation, which is centered on high quality and our brand," said Yu Jun, president of GAC Motor.
According to Yu, Chinese homegrown vehicles have expanded their market share in the auto industry in recent years, thanks to an ever-increasing focus on the importance of quality and technological innovation.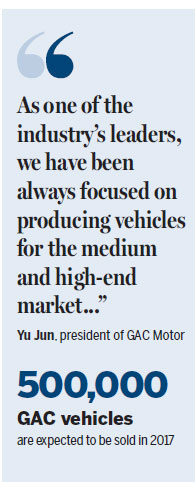 "As one of the industry's leaders, we have been always focused on producing vehicles for the medium and high-end market, as domestic consumers have developed growing demand for high-end cars," Yu said.
GAC Motor, a subsidiary of the Guangzhou Automobile Group, realized annual compound growth rate of 85 percent over the past six consecutive years, consolidating its leading position as a homegrown automaker in the domestic market.
"China's homegrown automakers have developed their core competitiveness in the past two years, and they are capable of challenging the market, which has long been dominated by foreign brands," Yu added.
To date, GAC Motor has released a full range of seven SUV models onto the market, including compact, mid-sized and large models, as well as an electric one. The brand has been an SUV market leader in the Chinese market in recent years.
As China has outlined its ambitious plans to upgrade its manufacturing, GAC Motor will adopt a smart and internet-based system in production, according to Yu.
"We will also optimize the supply chain and processing lines by introducing more technologies to upgrade our products and increase efficiency," Yu said.
GAC Motor sold 376,000 vehicles in the first nine months of this year, an increase of 46.8 percent year-on-year, according to sources in the company.
In September alone, the company sold more than 46,000 vehicles, a record high in sales in a single month.
The company has set a goal of selling 500,000 vehicles in 2017 and one million in 2020, with the release of the 20-30 sedan, SUV and MPV models in the years ahead.

Moreover, the company consolidated its dominance in the domestic industry by retaining its position as the highest ranking Chinese brand in the J.D. Power Asia Pacific's 2017 China Initial Quality Study for the fifth consecutive year. The company's best-selling innovative SUV model GS4 ranked first in the study's compact SUV category of Chinese brands, which was released in late September.
Following its growing presence in the domestic market, GAC Motor will expand its sales in key markets in the Middle East, Southeast Asia and Africa, with the introduction of its high-end GA8 and GS8 models to the overseas market, according to the company.
Outside China, the company has so far launched sales and after-sales networks in 14 countries and regions around the world.
The company is also planning to tap the North American market no later than 2019 with its research and development center already in position in Silicon Valley.
qiuquanlin@chinadaily.com.cn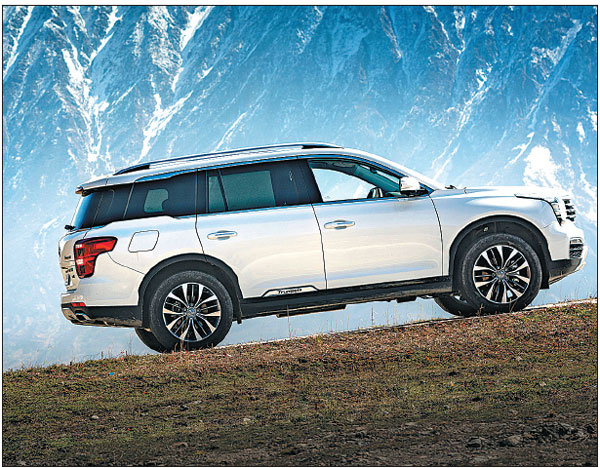 GAC Motor plans to introduce its new GS8 model to the overseas market. Photos Provided to China Daily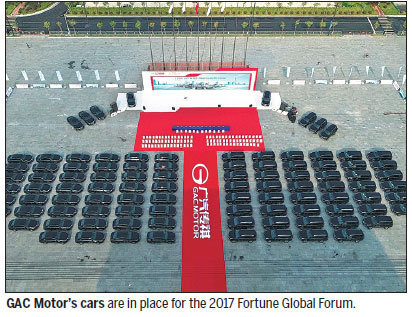 (China Daily 10/27/2017 page14)
Today's Top News
Editor's picks
Most Viewed