Latest science, tech hit market thanks to Chengdu's support
Success seen in projects signed, events held, new products available
Of eight comprehensive innovation pilot areas nationwide, Chengdu in Sichuan province has become the largest contributor to China's latest move to deepen reforms. The State Council decided in September to promote 13 piloted reform measures across the country, five of them from Chengdu.
As a scientific and technological center in western China, Chengdu has promoted collaborative innovation with colleges, universities, research institutes and companies in recent years to boost its role as an innovation-driven leader. Sichuan University hosted a project signing ceremony in Chengdu, capital of Sichuan province, related to the commercialization of successful biopharmaceutical research on Sept 27.
A national key laboratory team led by Wei Yuquan, an oncology professor from the university, plans to commercialize seven of its research achievements in Chengdu, including antineoplastic medicines and genetic therapy techniques, according to a statement provided at the ceremony.
The team will work with three companies that will invest nearly 800 million yuan ($121.4 million) in registering seven companies in Chengdu for industrialization development.
Through the partnership, more than 50 new drug varieties are expected to be developed and more than 10 billion yuan will be invested overall. Wei said that they have transferred more than 60 innovative drug varieties to large domestic pharmaceuticals companies and nearly 20 projects have been commercialized in Chengdu.
Xie Heping, president of Sichuan University, said, "We hope through the signing that Chengdu will train more top scientists."
He said the fact that the projects signed at the ceremony will develop in Chengdu is an achievement of the action plan Sichuan University implemented for commercializing scientific and technological research, Xie said.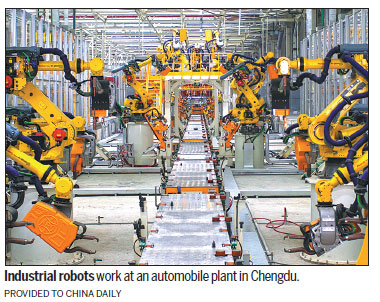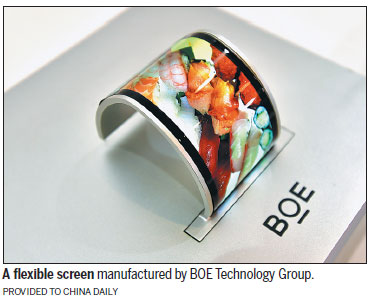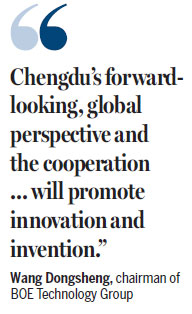 The plan, which was launched last year, put forward 22 measures targeting prominent problems restricting commercialization, involving the whole process from basic research, development to industrialization.
An electronic information plus industry development conference, hosted at the University of Electronic Science and Technology of China on Sept 29, attracted more than 500 alumni entrepreneurs from 40-plus regions to Chengdu. They have integrated into the city's innovation and entrepreneurship rush via different approaches.
Zhou Jinting, chairman of Shanghai Hefu Holding, said that the company will build an electronic information industry area in Chengdu's Pidu district, which will be able to generate 100 billion yuan in annual output value.
They will first launch an electronic information plus area covering 1.5 square kilometers and an entrepreneurship industry park.
Wang Dongsheng, chairman of BOE Technology Group, said: "Chengdu's forward-looking, global perspective and the cooperation among local governments, companies, universities, research institutes and users will promote innovation and invention."
Wang said he has been to and invested in many cities, and he firmly believes Chengdu is a city of the future, featuring reform and innovation. "BOE has decided to make Chengdu an important center for future development," Wang said. He added the company's three business fields - display and sensing, payment systems, and life sciences and healthcare - are all developing in Chengdu.
"We have already invested 100 billion yuan in Chengdu," Wang said. "We have faith in the city's prospects."
At the conference, the Chengdu government and University of Electronic Science and Technology of China decided to host an annual event on Sept 29, comprising a development summit, forums and investment promotion activities.
Chengdu is home to 56 institutions of higher learning and 84 national-level research and development platforms, including a key national laboratory for polymeric materials and engineering. The city leads in fields such as rail transit, high polymer materials, stem cells and biological materials.
songmengxing@chinadaily.com.cn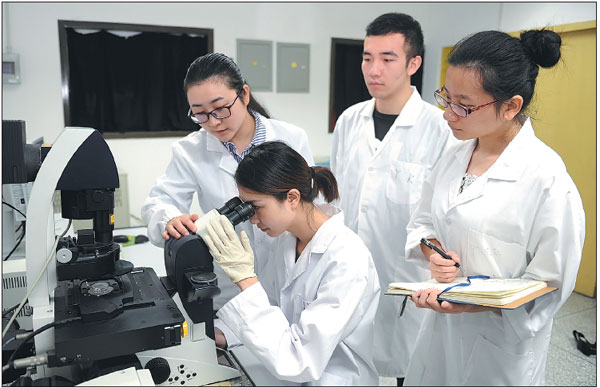 Researchers conduct an experiment at the National Engineering Research Center for Biomaterials in Sichuan University.Provided to China Daily
(China Daily 10/20/2017 page16)
Today's Top News
Editor's picks
Most Viewed