Canada, UK desire a post-Brexit trade deal
The United Kingdom and Canada said on Monday they hope to have a free-trade agreement modeled on Canada's deal with the European Union, once London leaves the bloc.
Speaking at a news conference in Ottawa, British Prime Minister Theresa May first hailed the EU-Canada Comprehensive Economic and Trade Agreement, which Britain will cease to be a party to when it leaves the EU.
She said: "The deal has significant potential to boost transatlantic prosperity and the UK economy, eliminating 98 percent of Canadian import duties and massively increasing the opportunities for British exporters."
May then went on to say that Canada agreed to replicate the details of that deal for Britain when it leaves the EU.
"I am pleased that we have agreed today that the EU-Canada Comprehensive Economic and Trade Agreement should be swiftly transitioned to form a new bilateral arrangement between the UK and Canada after Brexit," she said.
Canada said that it first wanted Britain to help pass the agreement while Britain was still in the EU before expressing a desire to have "a seamless transition on trade as the UK exits the EU".
The meeting took place as both leaders find themselves embroiled in disputes. Canadian Prime Minister Justin Trudeau said on Thursday that his country will reconsider an order for Super Hornet jets from US-manufacturer Boeing unless it stops its legal challenge of the sale of 75 passengers jets by Canadian firm Bombardier to US carriers Delta Airlines. Boeing alleged that Bombardier received illegal state aid from the Canadian government.
Bombardier also employs 4,500 people in Northern Ireland and the dispute could have a major economic impact there.
May traveled to New York from Canada where she will try to calm what appears to be an open rebellion from her Foreign Secretary Boris Johnson, who published a 4,000-word manifesto in the Daily Telegraph at the weekend espousing his vision of a hard Brexit.
Normally a prime minister would sack a minister for such a lack of discipline, but May has so far refrained from doing so, partially due to her failure to gain a majority in a parliamentary election this year.
Johnson's manifesto could be a first gambit in a challenge for the leadership of the Conservative Party and the country by establishing himself as the most anti-European voice in the party. His next step could be resignation before the party conference next month, which would throw the government into further chaos.
May hoped to use the New York trip to promote post-Brexit Britain to the international community but she will now have to pay equal attention to the disarray in her party.
conal@mail.chinadailyuk.com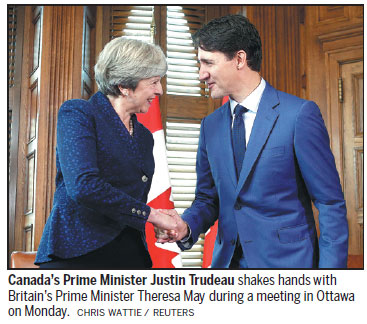 (China Daily 09/20/2017 page11)
Today's Top News
Editor's picks
Most Viewed