Digital music copyright awareness on the up
Government policies improve situation, but Chinese market still lags behind global peers in terms of per capita consumption
Awareness of digital music copyright protection should be improved in China, according to a recently released report.
"The music industry faces many challenges from online piracy," Zhang Fengyan, a music researcher at the Communication University of China, said in the report.

"Also, many customers take it for granted that they can listen to music online for free, which dampens the enthusiasm of companies, songwriters and producers."
The output value of the digital music industry reached 14.33 billion yuan ($2.2 billion) in China in 2016, up 39.36 percent year-on-year, according to the report.
China's music industry ranks No 12 globally in terms of total revenue, with 96.34 percent of that coming from digital music, the report said.
However, annual per capita consumption of music products is only about $0.15 in China, which is 0.7 percent of that in Norway and Japan, and 0.91 percent of United States consumers' spending on such products, it said.
The gap is the result of a low proportion of paid products and an incomplete service model, Zhang said in the report.
Music producers' incomes in China and the US also saw a significant divergence, the report has noted. US songwriters earn about 7.5 times more than their Chinese counterparts every year, due to the less-advanced copyright royalties system in China.
However, the report added that there has been a turnaround, showing that the current circumstances are improving.
The National Copyright Administration of China released a policy in 2015 to remove all music products without copyright from the internet.
Zhang said the move has helped to boost the authorization of such copyright on different platforms and inclusive copyright has now become an important factor in attracting netizens.
Zhao Zhi'an, vice-dean of the School of Music and Recording Arts at the Communication University of China, said digital music has become an important business for internet platforms.
"It brings in capital, new commercial models and technology, promoting the music industry end-to-end," Zhao said.
The number of active netizens in China reached 751 million in June, 68 percent of whom were online music users, the report noted.
Xiao Yanyan, internet media researcher at CITIC Securities, said that now the policy has begun to protect digital music copyrights, more premium content and broader channels will be constructed, so profits are likely to increase.
"The entertainment industry is a demand-driven industry. With 500 million Chinese users, it has great potential for the future," Xiao said.
A Yan, a music producer, said the rise of digital music has broken the previous monopoly of record labels and the resulting high market entry barriers, creating a more equal environment for competition today.
"Digital music is inevitably the direction the music industry will take."
According to the report, global digital music profit contributed 49.7 percent of the music industry's total in 2016.
Streaming media is coming into a golden time and paid products will become the major breadwinner, it said.
chenmeiling@chinadaily.com.cn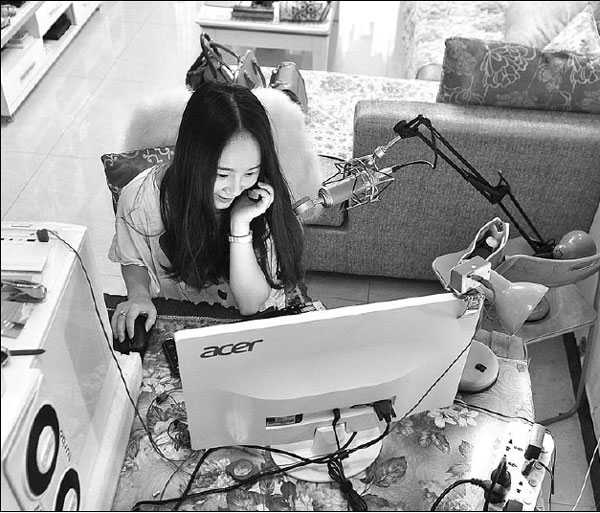 A young woman in Chengdu, Sichuan province, sings songs as she hosts an online show on YY Music, a livestreaming website.Lyu Jia / For China Daily
(China Daily 09/14/2017 page17)
Today's Top News
Editor's picks
Most Viewed