US, DPRK hold key to peninsula nuke issue
Liu Xiaoming, Beijing's ambassador to London, has said China is not the key to solving the nuclear issue on the Korean Peninsula and has called for negotiations and dialogue to defuse tensions.
The latest nuclear test by the Democratic People's Republic of Korea drove up regional tension and raised international concerns. Some Western media blamed China for not doing enough to curb the DPRK.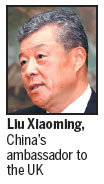 Today's Top News
Editor's picks
Most Viewed