Protecting image copyright rises on industry's agenda
Increasing copyright infringements related to online pictures have led to the devaluation of producers' labor, experts said at a recent copyright-related forum held in Beijing.
"Internet pictures have a value, but this value fails to be transformed into productivity in the market due to violations of copyright," said Wang Ziqiang, vice-chairman of the Copyright Society of China, at the forum.
The internet copyright industry's revenue topped 500 billion yuan ($75 billion) last year, among which, e-sports, online advertisements and music took in up to 100 billion yuan each, while the picture industry contributed comparatively little to that, according to a related report released in April.
Chai Jijun, founder of Visual China Group, a Shenzhen-listed picture provider, said infringements can be found everywhere, from offline advertisements to websites and social media.
"There are different kinds of picture producers and they may have a lot of works. Sometimes they do not know their works were copied. Even if they do, they may not realize it's a violation of their rights," Chai said.
Lin Tao, director-general of the Images Copyright Society of China, said they once bought 300 textbooks for primary and middle school students from the market to count the number of pictures being used.
They found some of the 18,000 photographic works in the books were taken by the members of the society, but none of them were paid for their work.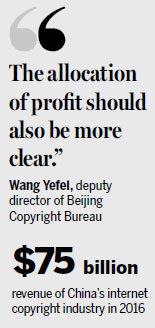 Lin said: "Some photographers even asked: 'Should I be paid for this?'"
According to the payment system for works used in textbooks - issued by the National Copyright Administration and the National Development and Reform Commission in 2013 - the copyright royalties for those photos would have totaled about 3.6 million yuan every year, Lin said.
"If we take all the domestic textbooks into consideration, the amount will be far beyond estimation," he added.
Yang Dejia, an official from Haidian district court in Beijing, said the problem lies in the fact that the public hasn't accepted the concept of paying for using others' pictures.
However, he said since similar problems already appeared in the past few years, when the number of video copyright-related cases boomed, he believed the future was bright for image rights protection.
Wang Yefei, deputy director of Beijing Copyright Bureau, said for internet picture operators, the management of the content, spread and usage of pictures, as well as the technological tools to prevent pirating, should be improved.
"The allocation of profits should also be more clear," Wang said. "For example, if a picture was widely used, how much should the photographer, the platform and the technology supplier get, respectively?"
Visual China Group has many registered member photographers. The company profits by purchasing the copyrights of those members and selling them to the public online.
In March, it signed an agreement with China's internet giant Tencent, whose customers will have free or paid access to these copyright-protected images.
This signifies that Chinese internet companies have begun to participate in images copyright protection, which is a good sign for the development of the industry, Chai said.
chenmeiling@chinadaily.com.cn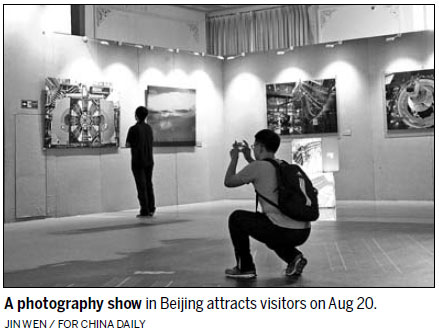 (China Daily 08/24/2017 page17)
Today's Top News
Editor's picks
Most Viewed