Inspur servers form foundation of computing industries' growth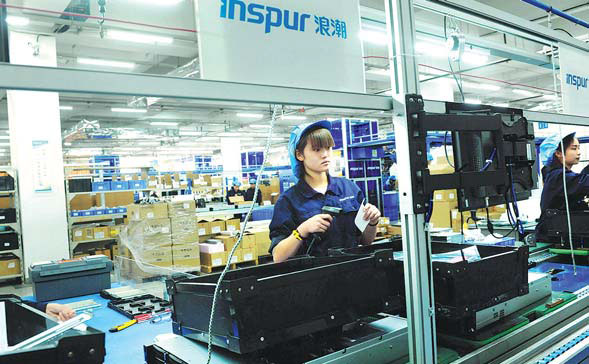 Workers assemble servers on an Inspur production line in Jinan, Shandong province. Provided to China Daily
With the widespread use of big data and cloud computing technologies, China's largest server maker Inspur Group is leveraging its innovation capabilities to expand abroad.
Its major business revenue is projected to surpass 100 billion yuan ($14.72 billion) in 2020, with some 40 percent estimated to come from overseas markets, according to a development plan the company released in 2016.
Currently, overseas sales contribute roughly 20 percent of its total business revenue.
Behind the rapid growth is Inspur's technological prowess.
The company, headquartered in Jinan, Shandong province, developed China's first proprietary 32-CPU server system - the Tiansuo K1 - in 2010, closing the gap in server technology between China and Western countries from 30 years to one to two years, industry insiders said.
The system enabled China to become the third country capable of developing such advanced machines, after the United States and Japan.
"Mainframes are instrumental to our country's information technology-based development strategy," Sun Pishu, chairman and CEO of the company, said at the launch ceremony in early 2013. "They are likened to aircraft carriers in the IT industry."
The Tiansuo K1 system, included in the 863 Program, a national high-tech research program initiated by the Ministry of Science and Technology, has turned China's heavy reliance on imports of related products around and has helped to improve the country's data safety, said Gong Weifeng, vice-president of Inspur Electronic Information Industry, the group's subsidiary, in which more than 80 percent of Inspur Group's research and development staff work.
Li Tuo, a chip researcher participating in the Tiansuo K1 system program, still remembers the tense atmosphere years ago.
In contrast with the humming machines kept running 24 hours a day, Li's chip group stayed silent most of the time and worked in shifts to ensure nothing was omitted from the monitoring results.
Wang Endong, the chief scientist at Inspur Group in charge of the program, said: "It is the dream of Inspur staff to hold core technologies concerning premier severs.
"When we have the opportunity to make it come true, we will go all out - it's worth it."
The system won the 2014 National Awards for Science and Technology Progress and renowned European design awards in the same year - the Red Dot Award and the iF Design Award.

Centering around the system alone, the company has filed nearly 2,000 patent applications in China, more than 100 of which have been granted so far. It also has won eight international patents.
Gong said: "Without generating patents, an employee is not suitable for an R&D position."
In his company, more than 3,000 patent filings rolled out last year, as about 60 percent of its employees are involved in R&D, he said.
With the noted strength in intellectual property, Inspur also set many other records in the domestic IT industry.
The company developed China's first server in 1993, which broke the foreign technology monopoly and ushered in the country's sever manufacturing era. It also launched a new mainframe generation named Tiansuo M13 at the end of last year, reinforcing its leading position in the industry.
Data from market research firm Gartner show that Inspur ranked among the top five server sellers worldwide in the first quarter of this year.
Inspur is expected to have significant influence on the development of China's large-scale data centers, Gartner analysts said.
To date, Inspur has exported its products and tailor made IT technological solutions to more than 100 countries and regions.
wangxin@chinadaily.com.cn
(China Daily 07/06/2017 page17)
Today's Top News
Editor's picks
Most Viewed