A growing number of startup teams from Taiwan are seeking out their dream careers on the mainland every year, many of whom target the internet industry, according to an investment expert.
"They consider the Chinese mainland as a market with great potential, where they can develop quickly," said Lin I-hsien, investment director at Beijing Golden Bridge Investment, during the ninth Straits Forum, held from June 17 to 23 in Xiamen, East China's Fujian province.
Lin, also from Taiwan, decided to stay in Beijing after a one-year exchange program at Peking University in Beijing in 2013. He said the number of entrepreneurs from Taiwan has surged since 2014.
"Most of the Taiwan-funded companies were established two or three years ago, so it is hard to tell whether they will be successful or not," he said. "Even though some have failed, they gained rich experience working on the mainland, which made them more competitive in job markets back in Taiwan."
The biggest difference between entrepreneurs from the mainland and Taiwan is that the latter do not have the same high expectations, he said.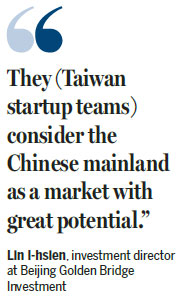 "An internet startup entrepreneur from Taiwan may feel satisfied if it has about 200,000 to 300,000 clients in the first year. However, those from the mainland expect more than 1 million," he said.
What businesspeople from Taiwan need most is to find an effective way to adapt themselves to the mainland market as soon as possible, due to the differences that exist, he added.
Incubators can provide those services, including accommodation and links to other resources, he said.
In 2015, 20 cross-Straits innovation and entrepreneurship bases were established on the Chinese mainland as approved by the Taiwan Affairs Office, among which three were located in Xiamen.
The Haicang district of Xiamen, where one of the bases is located, saw more than 1,000 young people - 30 percent of them from Taiwan - attend a three-day creativity and startup promotion campaign starting on June 16, as part of the Straits Forum.
The campaign included a scientific and cultural products exhibition, venture contest and sub-forum on innovation and entrepreneurship.
(China Daily 06/19/2017 page12)