Growing numbers of travelers warrant dedicated teams, policies to protect country's increasingly valuable visitors
JAKARTA - Indonesian Tourism Minister Arief Yahya has declared the resort island of Bali as the nation's pilot project to ensure a comfortable holiday trip for Chinese visitors, particularly in security and safety.
The minister said new, improved security standards would be applied in Bali, involving both Indonesian and Chinese authorities.
"We would set up a team constituting our ministry, the Bali tourism office, Chinese embassy and Chinese consulate general office plus the National Search and Rescue Agency of Basarnas to monitor Bali destinations favored by Chinese tourists," the minister said when meeting with Chinese Ambassador Xie Feng.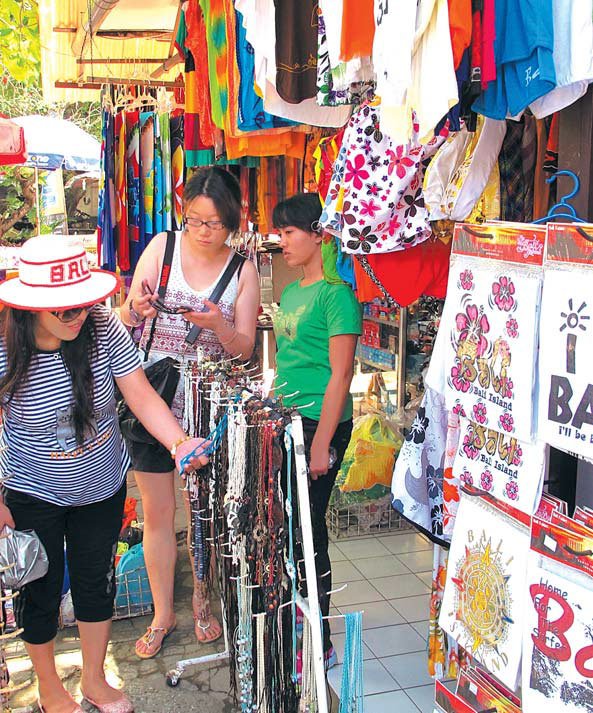 Chinese tourists visit a shopping street in Bali, one of their favorite destinations. Indonesia will intensify the operations of the Tourism Police in Bali to provide rapid responses in the face of unexpected events involving Chinese visitors. Gu Shihong / CNS
Indonesia will intensify the operation of the Tourism Police in Bali to provide rapid responses in the face of unexpected events involving Chinese visitors, he added.
"Besides those aspects, the Bali Tourism Board will open Mandarin-speaking facilities to convey information related to tourism. The board would also provide a Mandarin-speaking hotline for Chinese visitors. The ambassador would assist in these tasks," the minister said.
The Bali regional government will speed up the provision of Chinese signs in public spaces in Bali, along with English, French and Arabic languages.
The pilot project in Bali for Chinese visitors was aimed at addressing concerns conveyed by the ambassador over several mishaps and problems encountered by Chinese tourists in Bali.
Chinese topped foreign tourists visiting Bali in January this year.
The Bali government witnessed Chinese visitors grow more than 92 percent in January from a month earlier, thanks to expanding direct flights from China.
The resort island, an award-winning destination in Indonesia, is visited by millions of tourists from around the world each year. The island was recently named the world's best destination this year by influential travel review website TripAdvisor.
Bali was also selected as the Best Asian Island for 12 consecutive years by DestinAsian website.
During his meeting with the minister, Xie said Indonesia and China have huge potential yet to be tapped in tourism with China a major market for Indonesia.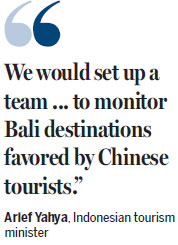 The ambassador said that Indonesia has myriad opportunities in the region to host China's outbound tourists which are expected to reach 140 million this year.
"So that's why I propose further improving our cooperation," he added.
The Indonesian government is striving to develop tourism as the nation's core industry, replacing oil and gas, coal and palm oil sectors.
The Southeast Asia's largest economy expects to welcome 20 million foreign visitors and earn more than $24 billion from tourism by 2019.
To support Chinese visitors in enjoying tourism resources in Indonesia, Indonesia's flagship carrier PT Garuda announced direct flights between the Indonesian tourist island of Bali and the northwestern Chinese city of Xi'an, company sources said.
The service runs every Thursday from Xi'an, a hub of Northwest China and West China.
The flight takes six and a half hours. It will be served by an Airbus wide-body A330-300 with 358 seats.
Garuda currently flies to Bali from Beijing, Shanghai and Guangzhou.
Foreign airlines are expanding their reach in western China as more Chinese are able to afford overseas trips.
In January, Indonesia's Lion Air also began offering service four times per week between the southwestern city of Chengdu and Bali.
The flights from Xi'an and Chengdu will drive the tourism boom in the region to Indonesia.
China has become the second-largest source of foreign visitors for Indonesia after Singapore, thanks in part to Jakarta's visa exemption policy for Chinese tourists.
Xinhua
(China Daily 05/15/2017 page45)