Cannes says 2017 is first and last for Netflix unless it changes
LONDON - Netflix, the video-on-demand company, will not be allowed to compete at the Cannes Film Festival after this year unless it changes its policy and gives its movies a cinema release, organizers said on Wednesday.
The 2017 festival, which begins next week, has Netflix films in its competition for the first time, a decision that angered the French movie theater sector as the company said the films will only be streamed to subscribers and not shown in cinemas.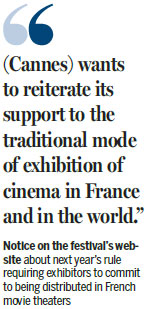 Festival Director Thierry Fremaux had said he believed Netflix would arrange some kind of cinema release for the two films in competition - The Meyerowitz Stories and Okja - both highly anticipated, with stars that include Jake Gyllenhaal, Ben Stiller and Tilda Swinton.

Today's Top News
Editor's picks
Most Viewed