Local maglev technology now a global industry leader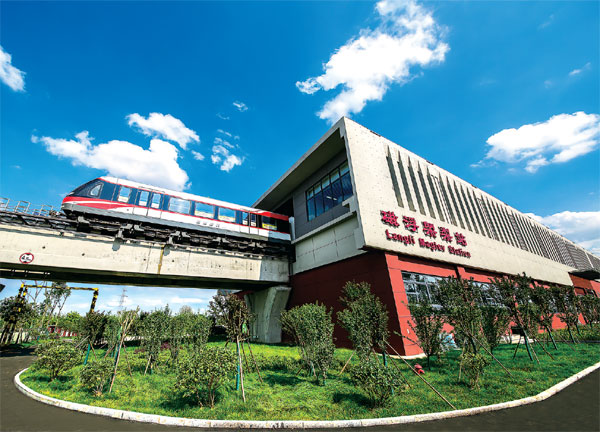 A maglev train leaves the Langli station in Changsha, Hunan province. Photos provided to China Daily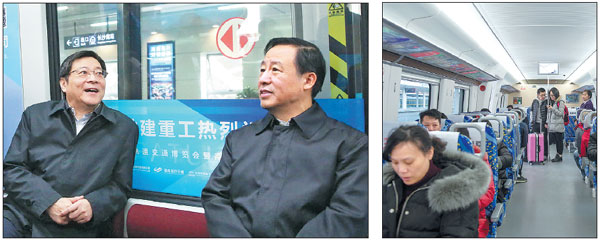 Left: Du Jiahao (left), the Hunan provincial Party chief, talks with Xu Dazhe, governor of Hunan, during their field study trip on a maglev train on Dec 6, 2016. Right: Changsha-Zhuzhou-Xiangtan intercity railway system has become a popular option for people in the three cities.
Rail equipment sector enjoys boom times as transport unites cities and drives provincial economy
As one of the most dynamic emerging industries in China, the rail transport equipment business is playing a major role in the manufacturing sector in Central China's Hunan province during the 13th Five-Year Plan (2016-20) period.
The industry is involved with many cutting-edge research institutions and manufacturers, including Fortune Global 500 companies.
Local players own more than 700 patents in the field, ranging from electric locomotives and cargo trains to high-speed and intercity express trains. More than 70 percent of the products in the Hunan market were developed locally.
Hunan officials said that the high-speed railway system has not only shortened the travel time between cities, but also accelerated the flow of capital, technology, information and human resources.
The provincial capital Changsha is now the hub of three high-speed railway lines, and is designed to have a subway system of 12 lines with a total length of 456 kilometers by 2030.
Hunan's rail transport industry has generated annual revenue of 200 billion yuan ($29 billion), and is leading the nation in related research and development.
The first subway line in Changsha started operations on April 29, 2014, making the city the 20th on the Chinese mainland to have a subway system.
In late December 2015, China's first domestically designed, low-speed maglev rail line started trial operations in Changsha. In the following year, it attracted delegations from 35 countries and regions including Singapore, Austria, Germany and Brazil. Many domestic cities also are planning to build such systems.
"I believe that the Changsha maglev system will grow and develop fast, as the concept of green and low-carbon development has become a consensus nowadays," wrote Du Jiahao, the provincial Party chief, for local newspaper Hunan Daily.
The provincial government signed an agreement with the National University of Defense Technology last September to build a maglev technology research center.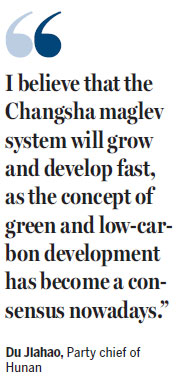 Zhou Xiaoming, general manager of Hunan Maglev Co, said the center is conducting research on mid-speed maglev systems where trains run at 160 kilometers per hour. The technology will be applied in Changsha's second maglev line in Xiangjiang New Area, a major investment project planned to start construction this year.
The International Maglev Conference 2020 will be held in Changsha.
Rail a key part of planned three-city cluster
On Dec 26, 2016, the Changsha-Zhuzhou-Xiangtan intercity railway was completed. The system has 21 stations and is 95.5 km long. Its trains run at a speed of 160 kph, so it takes about 40 minutes to travel between the cities.
The system dispatches a train every hour, but this rate will increase in the future.
According to a plan initiated more than a decade ago, Changsha, Zhuzhou and Xiangtan are being integrated in urban planning, infrastructure construction, industrial development and market systems.
As the economic heart of Hunan, the Changsha-Zhuzhou-Xiangtan city cluster is home to more than two-thirds of the province's large companies, and contributes about half of the provincial GDP. It is also a national pilot area for a resource-conservative and eco-friendly society.
The intercity railway system has become a popular option for people in the three cities. According to statistics from the local railway authority, at least 80 percent of seats on the intercity trains were occupied during the Spring Festival holidays earlier this year.
A Xiangtan resident surnamed Liu said it took him less than 10 minutes to transfer from the intercity line to a train to Xi'an in Shaanxi province during the holidays, thanks to the easy connection between the intercity lines and the existing railway lines and stations.
"Although slower than the high-speed trains, the intercity railway lines have many stations in the urban areas, providing more convenience to those who work and go to school in Changsha and live in Zhuzhou or Xiangtan," said transport expert Zeng Xing.
zhangzhao@chinadaily.com.cn
(China Daily 04/11/2017 page16)
Today's Top News
Editor's picks
Most Viewed